ARA's History-Making Sustainable Aviation Fuel (SAF) Technology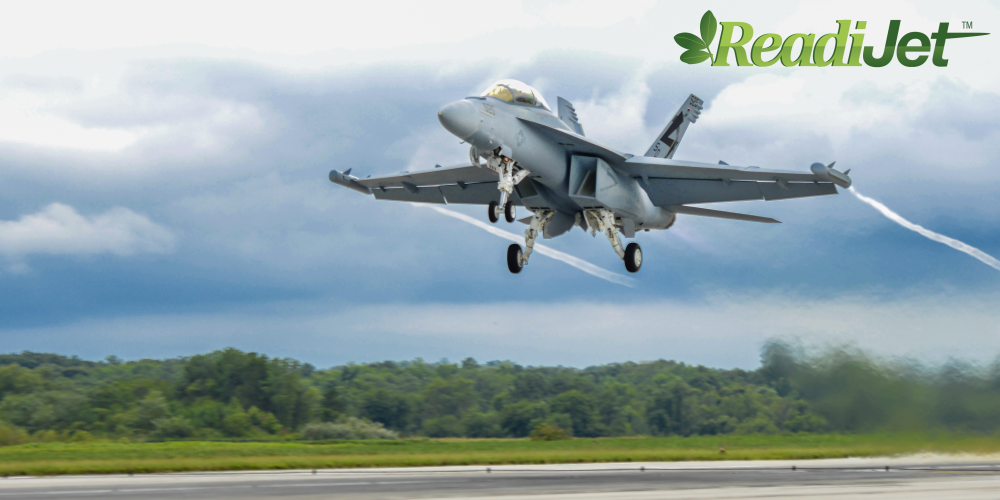 On September 19, 2016, the US Navy made history completing the world's first ever military aircraft flight on 100% sustainable aviation fuel when its Boeing EA-18G electronic attack aircraft completed a 100% sustainable aviation fuel powered flight from Naval Air Station Patuxent River, Maryland. The flight was part of the Navy's MILSPEC certification effort with ARA's ReadiJet and when completed will be the first ever 100% sustainable aviation fuel flight certification.
On December 15, 2019, ASTM International approved a new production pathway for sustainable aviation fuel called "Catalytic Hydrothermolysis Jet," or CHJ as ASTM D7566 Annex A6 in the revised specification for "Aviation Turbine Fuel Containing Synthesized Hydrocarbons," ASTM D7566-19b.  
The new Annex allows blending of up to 50% of CHJ with petroleum jet fuel. The ARA and CLG trademark for CHJ is ReadiJet.
ReadiJet contains the same molecules and has the same performance as petroleum jet fuel, all while reducing greenhouse gas emissions. It meets Jet-A, Jet-A1, JP-5, JP-8 fuel specifications without the need for blending with petroleum. On October 29, 2012, ReadiJet was flown in the world's first ever 100% sustainable aviation fuel flight using fuel that meets petroleum specifications without blending. The National Research Council Canada conducted the flight in their Falcon 20 aircraft. The flight showed over 50% reduction in particle emissions and black carbon emissions while offering a 1.5% reduction in specific fuel flow compared to its petroleum counterpart. This equates to longer range for aircraft flying with ReadiJet.
ARA's Biofuels ISOCONVERSION technology consists of hydrothermal conversion and hydroprocessing operations that convert waste fats, oils, and greases into renewable diesel, jet fuel, and naphtha that are virtually indistinguishable from their petroleum counterparts. This will result in an over 80% REDUCTION IN LIFECYCLE GREENHOUSE GAS EMISSIONS compared to petroleum in commercial units.
Advantages of ReadiJet
Provides over 80% reduction in green house gas emissions compared to petroleum

Meets all petroleum fuel specifications without blending

Has the same physical and energy density as petroleum fuels
More ARA Sustainable Aviation Fuel News