Instructional Design, Technologies & Products
Today's technology enables people to learn and advance in their careers in unprecedented ways. At ARA, our instructional systems designers develop client-specific training products and academic curricula to meet the needs of any student, anywhere, at any time!
Our products 
By using and systematically combining scalable delivery methods, we create blended learning options targeted to clients' needs.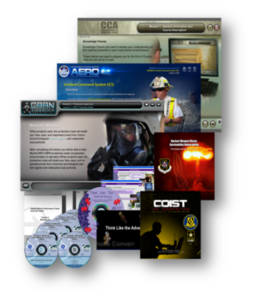 We offer: 
Computer-Based Training (CBT)

Web-Based Training (WBT)

Instructor-Led Training

Immersive Learning (Level 4)

Physics-Based Simulations

Automated Exercise Simulations

Instructional & Informational Vignettes

Technical Publications

Mobile Apps

Job Aids (paper or electronic format)

Large Format Printing

Conference Displays
Continuous internal evaluations throughout the development process, along with frequent external quality reviews by appointed client subject matter experts (SMEs), ensure continuous improvement of both our processes and end products. Our process evaluations also review the state of the art in design and development related to e-learning and Sharable Content Object Reference Model (SCORM) updates.​
Proven Experience
From detailed analyses of user operations and training needs, we design and produce training courses ranging from paper-based classroom and field presentations to computer- and web-based courses, either as stand-alone or blended learning efforts. Through our broad media and graphics capabilities, we have the expertise to facilitate the evolution of these capabilities to even higher levels of learning—taking them from level 2 or 3 interactivity up to fully immersive level 4 interactive courses that maintain curriculum soundness and integrity.
Our production capabilities include an on-site graphics suite fully equipped with the latest versions of state-of-the-art software. ARA videographers and photographers use professional, high-resolution digital cameras with complete lighting and sound packages, background and "green screen" capability. The team employs in-house, state-of-the-industry, non-linear editing capabilities along with digital video editing systems that include both 2D and 3D effects capabilities. This gives us the ability to take the training products we produce to an increased level of quality and interaction.
ARA programmers have extensive experience working with our clients' Learning Management System (LMS) Support and SMEs to coordinate the packaging and staging of training products, along with the in-house ability to produce and deliver professionally packaged stand-alone and paper-based versions that include all final source files used during development and programming.
We also have a custom publishing capability that allows us to automate production of multiple delivery formats, including SCORM LMS Package Interchange Format (PIF), standalone CD-ROM, and web-based, using our proprietary LMS emulation package.
Processed-Based Development
ARA's instructional designers apply the industry standard instructional systems design (ISD) process based on the ADDIE model, which stands for Analyze, Design, Develop, Implement, and Evaluate, coupled with our Rapid Agile Development System (RADS) Training Development Process, to develop and maintain each training solution created for our clients. This combination of ADDIE and RADS is vital as the majority of the target audiences for these products will need to apply the knowledge and skills gained from these training venues into seamless performance.
For nearly 20 years, ARA has developed, updated, revised and delivered over 300 training courses for the Department of Defense; Department of Homeland Security; various federal, state and local transportation agencies; and private industry. We take great pride in providing dependable products, from project inception to completion, that remain on-target to our clients' requirements and budget. 
James "Mike" Rawus, M.Ed. Lead, Instructional Design Group  •  Tel: 850-914-3188