AirView Interactive GIS Pavement Management Application
State aviation agencies face the challenge of effectively communicating pavement management information to hundreds of stakeholders. Written reports are becoming more and more antiquated, and static maps offer only marginal added benefit.
To help address the challenges of communicating engineering-related information to a diverse set of stakeholders, ARA offers the web-based AirView application to provide easy access to a wide range of information. AirView publishes MicroPAVER data overlaid on aerial imagery from Google Earth, and it runs from any internet browser and allows users to enjoy the benefits of a GIS without expensive software licensing costs.
The AirView graphical interface makes it easy for airport staff to locate maintenance needs such as crack repairs that were identified and photographed during a condition survey. Additionally, it accesses key performance measures and conditions for a plethora of pavement, markings, lighting, and other airfield infrastructure.
AirView is convenient and versatile, and ARA can customize the content and format to meet each client's unique needs. All of the information in the application can be printed and copied for use with other programs or for ease of display on spreadsheets. Printouts are also helpful for reports and presentations. AirView makes it simple to get a lot of diverse information in one place so it is easy for users to gather and disseminate information regarding their infrastructure.
The application uses Google Maps overlaid with GIS files. The resulting views are color-coded with regard to the information needed. AirView also allows users to choose different ways of viewing the information they need. Information can be viewed as charts, maps, tables, or more; whichever is most useful to the customer. Other pertinent related information can also be accessed through AirView, including FAA advisories and condition reports.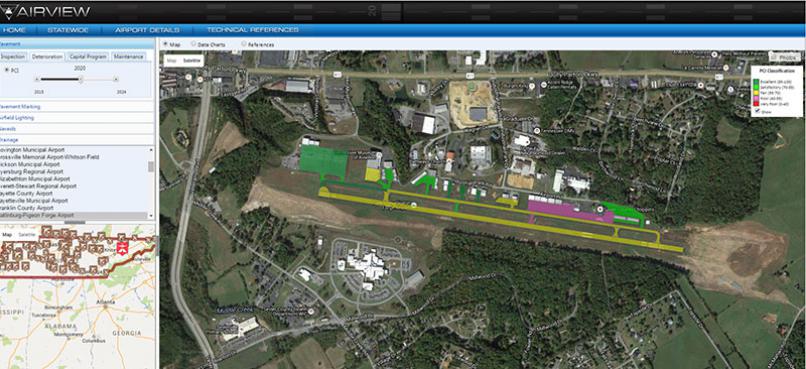 AirView makes it easy to browse for meaningful pavement-related data without having to search through technical reports or specialized software with limited access. It allows users to choose different ways of viewing the information they need, providing an easy-to-implement and easy-to-use tool for effectively communicating system-wide airfield information to a large, diverse set of stakeholders.
Brian Aho PE  •  Tel: 608-274-6409