Respiratory Protection Center of Excellence
ARA's Respiratory Protection Center of Excellence (RPCE) has been established over the past decade through performing research and development for major government and industrial customers. ARA has performed respiratory protection research for the Food and Drug Administration (FDA), Centers for Disease Control and Prevention's (CDC) National Institute for Occupational Safety and Health (NIOSH), Occupational Safety and Health Administration (OSHA), Biomedical Advanced Research and Development Authority (BARDA), and the Department of Defense (DoD).  We have vast experience to meet all your respiratory protection research needs.
Capabilities
TSI Automated Filter Tester – Filtration efficiency and pressure drop testing of respirators and respirator materials.
TSI PortaCount Fit Tester – Quantitative fit testing for all respiratory protection products.
Droplet and Aerosol Source Control System – This unique capability combines two headforms with breathing machines that allows us to evaluate technologies for mitigating transmission.
Computational Fluid Dynamic (CFD) modeling – ARA's computer infrastructure support complex CFD modeling that we have applied to design and optimization of respirator design.
Human Factors Lab – ARA establishes Intuitional Review Board (IRB) protocols to perform research surrounding comfort, tolerability, and overall wearability for respirators. This includes simulated work levels and the ability to quantify key metrics (temperature, humidity, CO2level, etc.) from human subjects.
Human Factor Outreach –  ARA has vast experience conducting "voice of the customer" studies to better understand customer views of respiratory products. We have an extensive network of hospitals we work with to conduct interviews and simulated workplace studies.
Rapid Prototyping – ARA uses multiple techniques for rapid prototyping (additive manufacturing, soft tooling, etc.) to create prototypes for preliminary evaluations. ARA has used this capability to rapidly prototype respirators for both humans and canines.
Disinfection and Sterilization – The RPCE contains custom equipment for disinfection and sterilization requirements allowing for rapid and customizable analysis. This includes a washer-disinfector and autoclave that allow repeated cycling and complete cycle control.
Microorganism Detection/Assay – The RPCE contains a full suite of capabilities for detection of microorganisms. This includes enzyme-linked assays as well as quantitative PCR. We currently are set up to detect the SARS-CoV-02 virus (COVID-19).
Aerosols/Droplets – The RPCE is equipped with an aerodynamic particle sizer (APS) that can detect particles ranging from 0.5 – 20 µm. We also have a Malvern Spraytec that measures liquid droplets through laser diffraction.
Bioaerosols – The RPCE contains multiple custom bioaerosol chambers that were designed to meet specific customer needs. We have vast experience aerosolizing various BSL-I and BSL-II microorganisms in custom chambers and developing standard test methods.
Microbiology – The RPCE contains a full service BSL-II microbiology laboratory that provides the capability to work with any virus, bacteria, spore, phage, cell line, etc. that is classified as a BSL-I or BSL-II agent.
Analytical Chemistry – Fully equipped with standard laboratory and chemical handling equipment, as well as advanced analytical instrumentation such as ion chromatographs, gas chromatography–mass spectrometer, Raman and UV-Vis-NIR spectrophotometers, and high-pressure liquid chromatographs.
Selected Patents
Elastomeric Respirator Patent
The focus of the RPCE is research and development. Our stated goal is to advance the state of the art in respiratory protection and to understand the factors that influence the performance of respiratory protection devices. Our experience and capabilities provide a one-stop-shop for all your respiratory protection research needs. When your projects require more than standard test lab services, please contact us to provide support.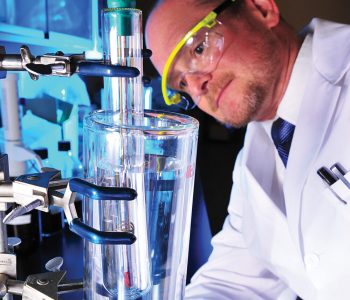 Delbert Harnish  •  Tel: 850-914-3188
430 West 5th St.  •  Ste 700  •  Panama City, FL 32401-6357