Vehicle Barrier Analysis & Design
Physical security solutions and vehicle barrier systems that are designed to meet the unique needs of buildings are often necessary to prevent unauthorized vehicle penetration of certain areas.
ARA has extensive experience analyzing, testing, and designing vehicle barrier systems to develop a reliable validated model to ensure designs meet all performance requirements while working within the available structural and operational requirements of a space. ARA engineers also provide construction administration support and work with customers to resolve construction challenges as they arise to ensure installed systems perform as designed.
For one such project, the General Services Administration needed to install an operable bollard system capable of adequately stopping a moving vehicle in an upper slab of a parking garage where it was not possible to encase the foundation in compacted soil. Instead, an existing K4 retractable bollard system needed to be adapted to hang on existing concrete walls while still providing the necessary resistance to vehicular impact to prevent unauthorized vehicle penetration.
ARA worked closely with McMullan and Associates to develop an adapted design for a tested K4 retractable bollard system that used a hanging foundation supported on the existing concrete walls. ARA performed a detailed finite element analysis of the barrier system and the new hanging foundation.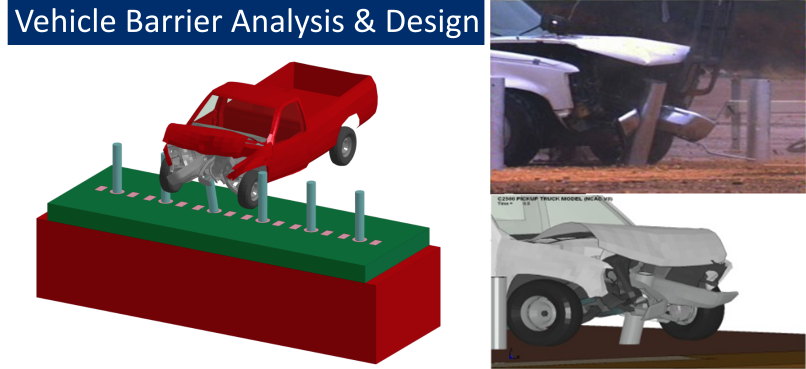 ARA's unique designs can allow the adaptation of existing barrier systems to challenging existing site conditions without the need to conduct additional testing by relying on validated modeling and experience provided by ARA engineers.
J. Mikhael Erekson PE  •  Tel: 601-638-5401