Improved analytics complement and leverage DHS efforts for centralized data governance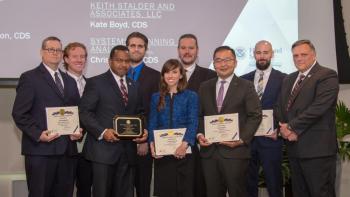 An Applied Research Associates, Inc. (ARA) project, System of Systems Operational Analysis (SoSOA), has received the Under Secretary for Science and Technology's Award for Innovation.
Under contract with the Department of Homeland Security (DHS), ARA is developing SoSOA to improve mission outcomes using less time and resources. The SoSOA virtual environment allows collaborative operational analysis supporting the DHS's complex, mission-focused decisions.
The award recognizes government individuals or a government/contractor team for innovative efforts that provided significant contributions in support of the DHS mission. Nominees were considered based on the innovation affecting an extensive area of science or technology, or operational and administrative support and services.
"WE ARE PROUD TO SUPPORT DHS THROUGH THE DEVELOPMENT OF SOSOA AND HONORED TO RECEIVE RECOGNITION FOR OUR EFFORTS TO IMPROVE MISSION OUTCOME," – GREG MCINTYRE, CONTRACT MANAGER AND ARA'S CAPITAL AREA DIVISION ASSISTANT DIVISION MANAGER.
DHS needs a "system of systems" approach and advanced analytics to address the complex, complementary combinations of platforms, systems, and activities across DHS core mission, but current analytic processes are time consuming and resource intensive. Additionally, current analytic and decision support tools are often limited to Excel and PowerPoint, resulting in basic descriptive analytics.
SoSOA takes an innovative and agile approach to help solve DHS enterprise analytic problems through the development of a virtual environment for collaborative operational analysis. SoSOA combines cross-organization operational data and analytic tools in a "system of systems" approach to help decision makers make smarter operational and investment decisions across the diverse homeland security enterprise.
SoSOA improves analytic processes by providing the right tools, data, and training for enhanced, evidence-based decisions across DHS. The SoSOA team used a demonstration project approach to elicit analytic and system requirements, solve immediate component problems, build to longer-term needs, and incorporate the best data, analytic tools, and training available to shorten analysis cycle time and reduce the need for resources and personnel.
SoSOA integrates existing commercial-off-the-shelf and open-source tools, and complements and leverages DHS efforts for centralized data governance and curation.
SoSOA's Components and requirements driven demonstration projects for U.S. Secret Service, Customs and Border Protection, U.S. Coast Guard, the Transportation Administration, and National Protection and Programs Division have not only demonstrated SoSOA's ability to be agile and responsive, but have identified a widespread need for analytic, science and engineering maturity across the Components and the Homeland Security Enterprise. SoSOA's proven success with their first set of transitioned projects has built a foundation for further growth.
The work is being done under the DHS Joint Requirements Council Operations Analysis Support Services contract managed by Dr. Greg McIntyre, Capital Area Division's (CAD) assistant manager. The SoSOA team also includes Jesse Coleman, a CAD senior operations analyst, and Chris Prather, a CAD senior operations specialists, as well as other government and contractor employees.
Consideration for nominations included participation in activities that support the directorate's strategic initiatives, and other exceptional and noteworthy initiatives that advance the directorate's mission.
ARA representatives accepted the award Nov. 13 at the National Association of Home Builders Auditorium in Washington D.C.