ARA was out in force at the 2019 Military Health System Research Symposium in Orlando, Fla., where ARA scientists and engineers highlighted their leading-edge work in support of military medicine.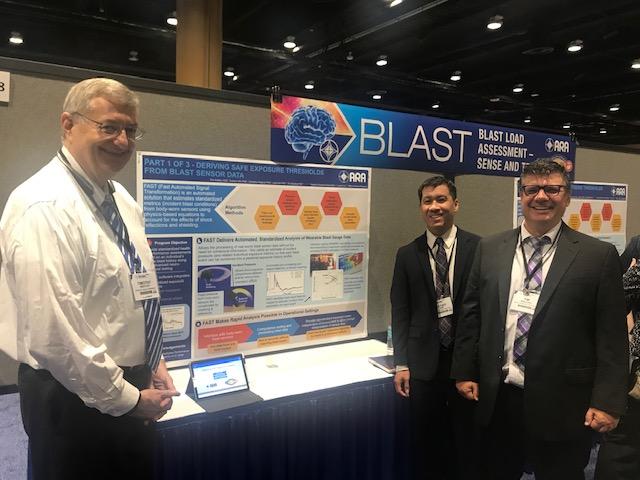 The symposium is the Department of Defense's premier scientific meeting on medical research and development and provides a venue for presenting new scientific knowledge related to the unique medical needs of the warfighter.
At this year's symposium, ARA scientists and engineers presented or supported 10 posters on a range of technical topics related to military medicine, as well as a presentation on brain health, demonstrating ARA's continued dedication and capability in supporting military medicine and the health and operational fitness of America's warfighters.
ARA highlights included:
Blast Load Assessment Sense and Test (BLAST), which models the complex relationship between the intensity of a blast event and the severity of the associated injury through integration of experimental data from animal studies with human exposure data from operational and training events. BLAST is funded by the Office of Naval Research.
BurnCare, a virtual trainer that helps medics treat serious burn injuries using high-fidelity 3D virtual patients. BurnCare is funded by the Army Simulation and Training Technology Center.
BURNMAN, which aims to improve battlefield medicine through the use of multi-spectral imaging and machine learning algorithms to more accurately assess burn casualties. BURNMAN is funded by the U.S. Army.
Trauma, Triage, Treatment and Training Decision Support (4TDS), a system to support the evaluation and treatment of patients at risk of shock, a high-risk critical illness syndrome with multiple potential causes in which delays in diagnosis and application of best care can lead to poor patient outcomes. The development of 4TDS is funded by the Medical Technology Enterprise Consortium (MTEC).
A talk on brain health during the symposium's cognitive readiness track by an ARA subject matter expert on cognition, neuroscience, and brain health and performance.
And more.
Explore ARA's many health solutions here.