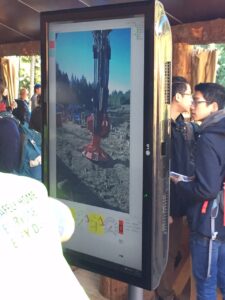 Risk reduction. Increased productivity. Reduced worker fatigue. These are the challenges facing any forestry firm. How can you accomplish all three with your existing equipment? Applied Research Associates, Inc. (ARA) has the solution.
For more than 20 years, ARA's Modular Robotic Applique Kit (MRAK) has transformed a wide range of manned forestry equipment into unmanned robotic machines; keeping human operators out of the most dangerous conditions. How does it work?
Through advanced cameras and software, MRAK allows operators to control equipment at a safe distance via a large screen giving them the same view and awareness they would have if sitting in the cab. HD quality video with all the gauges, alarms, and feedback, as well as audio gives the operator the full sense of piloting the vehicle normally. Thanks to MRAK's ability to integrate with existing equipment, operators maintain full OEM equipment capabilities. If desired, MRAK can offer autonomous features such as setting a specific area to be cleared or dug up. Operators can easily switch from manned to unmanned modes when necessary.
It is probably not difficult to imagine the risk reduction benefits of taking an operator out of a 40-ton piece of machinery on a steep slope. What may not be as obvious is the long-term impact on your human resources. As FP Innovations points out in the May/Jun 2021 issue of Canadian Forest Industries, "Reducing worker fatigue and enabling operators to work offsite in a safe and comfortable environment would also make operator positions more attractive to new workers and could extend the career of existing operators." As the digital evolution continues, workers will seek lucrative career opportunities that offer safe and comfortable environments. The forestry industry can now offer that.
While large equipment manufacturers play catch up and seek to offer robotic and autonomous capabilities on future equipment, you can install MRAK today for a fraction of the price of a new piece of equipment.
Ready to learn more? Contact us today.