An ARA engineer recently accepted an Outstanding Contractor Support award from the Department of Homeland Security Science and Technology Directorate after the team he leads went above and beyond the call of duty to protect personnel and mitigate damage to critical facilities in the wake of Hurricane Michael.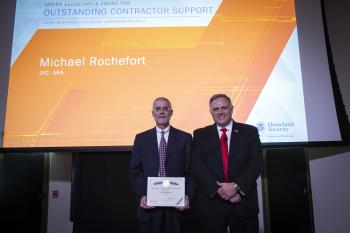 The hurricane passed directly over Tyndall Air Force Base in Panama City on October 10, 2018, leaving devastation in its wake. ARA manages a data collection site on Tyndall for DHS.
"Though much of Panama City, Tyndall Air Force Base, and the surrounding communities are still reeling from the disaster almost a year later, ARA staff remained safe and data collection operations were restored in just two months," the award nomination read.
The safety of ARA employees and the quick return of the site to full operational capability was thanks in large part to the quick and skillful actions of Mike Rochefort and his team, who quickly secured the site and its assets.
Rochefort, who joined ARA in 1983, accepted the award Dec. 6 in Washington D.C. He emphasized that these accomplishments were thanks to the dedication of each employee in the Tyndall Reactive Materials Group.
"I want to take this opportunity to thank the entire group for coming together in the aftermath of Hurricane Michael to ensure we could continue this critical work for our customer as quickly as possible," Mike said. "You truly embody our core value of service."
When Rochefort and his staff were allowed to return to the base, they found their office building and chemistry laboratory had been completely destroyed, according to the award nomination. Other support structures were destroyed or badly damaged. Fortunately, the core functions of another test and evaluation facility and an explosives synthesis lab remained standing.
Rochefort and his team took prompt action to regain access to the facility, assess the damage, stabilize damaged structures, and salvage equipment and materials that were at risk from exposure. Once the situation had been stabilized, they immediately began efforts to clear debris and secure the facility.
Working with the U.S. Air Force leadership at Tyndall, the team restored the integrity of security fencing, "preventing the intrusion of both unauthorized persons and wild life including several alligators and at least one very curious black bear," the nomination read.
Though the critical site had lost its safety testing lab and its operations monitoring center was barely functional, the team was able to resume data collection less than two months after the hurricane. On November 20, 2018 the site managed by Rochefort and ARA became the first on Tyndall AFB to return to operational capacity.
On December 5, 2018, ARA resumed data collection critical to the test and evaluation of the next generation carry-on bag inspection systems that the TSA administrator has called his top priority.
Two other teams with ARA employees also accepted awards at the Dec. 6 ceremony.