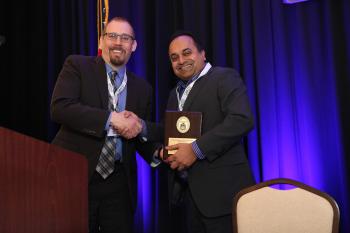 The National Defense Industrial Association (NDIA) recently awarded ARA's Neya Systems Division Manager, Parag Batavia, the Ground Robotics Technology Innovator Award. Presented annually, the award goes to a nationally recognized leader in the theory and design of intelligent systems, and their application to robotics and automation systems. Parag, an innovator for robotics across many Department of Defense (DoD) programs, received the award at the Ground Robotics Capabilities Conference April 11.
Through his work, Parag has shown he is a proponent for the integration of ground robotics systems into military operation, and has been a strong advocate for the development of enabling technologies and broad applications of ground robotic systems.
Parag formed Neya Systems LLC in 2009, and has directed significant autonomy-related advancements and technology innovations that have been implemented on multiple DoD unmanned systems. With Parag at the helm, Neya Systems has been recognized worldwide for its contributions to advanced unmanned systems technology.
Last April, ARA acquired Neya Systems, which now operates under Parag's leadership as a division of ARA.
"ARA IS PROUD THAT PARAG WAS CHOSEN FOR THIS PRESTIGIOUS AWARD. HE TRULY EXEMPLIFIES THE QUALITIES THAT WERE RECOGNIZED BY NDIA IN WINNING THIS AWARD. IT IS A GREAT PLEASURE TO WORK WITH PARAG AND HIS TEAM TO GROW OUR ROBOTICS BUSINESS AND SEE WHERE HIS INNOVATIVE THINKING CAN TAKE THE FIELD OF ROBOTICS." – DAVID TIMIAN, SENIOR VICE PRESIDENT OF ARA
For the Army's Squad Multipurpose Equipment Transport (SMET) program, ARA's Neya Systems Division and Unmanned Systems & Security Products Division teamed up with Polaris Industries, Inc. to create the elite MRZR® X, a modular, multi-purpose, off-road autonomy platform that aims to evolve squad mobility with advanced unmanned systems technology.
Parag also contributed to the Defense Advanced Research Projects Agency's (DARPA) SQUAD X, a program that equips warfighters with the latest technology to improve situational awareness on the battlefield.
He has also led the development of several other systems for government clients, including the development of a full autonomy system for a 10,000 pound skid steer platform and the development of a module for a program developing a new family of interoperable Explosive Ordnance Disposal (EOD) robotic systems. That module will be the first large-scale deployment of autonomy on a DoD platform.
In addition to those programs, Parag has been an early developer and supporter of international interoperability of autonomous systems, and has been active in the Joint Architecture for Unmanned Systems (JAUS) and Interoperability Profile (IP) communities. To further interoperability efforts, he has served as on the executive committee of SAE AS/4 JAUS, as well as the Unmanned Aircraft System Control Segment Architecture Working Group.
From 2011 to 2016, Parag also served on the Board of Directors of the National Advanced Mobility Consortium, and was elected president of the board in 2015.
Parag completed his PhD in robotics from Carnegie Mellon University in 1999 and directed projects at Applied Perception Inc. and QinetiQ North America before going on to earn an MBA at Drexel University and founding Neya Systems.