Applied Research Associates Inc. Southeast Division (ARA-SED) in Raleigh, NC has won the prestigious James S. Cogswell Outstanding Industrial Security Achievement Award. ARA-SED security professionals accepted the award at the Gaylord Texan Resort Hotel & Convention Center in Grapevine, TX on June 6.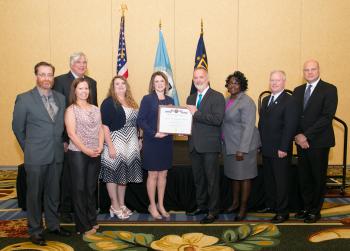 The Cogswell award is the highest honor the U.S. Department of Defense's Defense Security Service (DSS) may bestow to cleared industry, and the selection process is rigorous. Thirty-nine facilities were selected for the award. The 39 facilities were chosen from approximately 13,300 cleared facilities subject to recurring assessment, and who represent large and small companies.
The Cogswell award was established in 1966 and is named in honor of late Air Force Col. James S. Cogswell, who was the first chief of the unified office of Industrial Security. Col. Cogswell is responsible for the underlying principle of the Industrial Security Program – the need for a true partnership between industry and government to ensure the protection of classified information, materials, and programs.
The award criteria focuses on principles of industrial security excellence, which includes establishing and maintaining a security program that goes well beyond the minimum National Industrial Security Program requirements, and providing leadership to other cleared facilities to set high standards for security.
"ARA-SED HAS A LARGE AND COMPLEX SECURITY PROGRAM WHICH MAKES IT EVEN MORE IMPRESSIVE OUR SECURITY TEAM HAS ACHIEVED CONSISTENT SUPERIOR DSS RATINGS. WE APPRECIATE THE AWARD AND RECOGNITION AND ALSO ACKNOWLEDGE THE HELP AND LEADERSHIP OF OUR LOCAL DSS REPRESENTATIVES. WE APPRECIATE THE COLLEGIAL WORKING RELATIONSHIP WE HAVE WITH DSS." – DR. ALLEN YORK, SENIOR VICE PRESIDENT AND SECTOR MANAGER
Mr. William Ratliff, vice president and division manager, noted that "we are fortunate to have such a dedicated team of security professionals. In addition to maintaining consistent superior ratings ARA-SED's security team has doubled the square footage of the physical secure space in the Raleigh office over the past 2 years while simultaneously maintaining security oversight for 5 satellite offices."
To receive consideration for the Cogswell award, a facility must be nominated by their assigned Industrial Security Representative and have a minimum of two consecutive superior industrial security review ratings. They also must show a sustained degree of excellence and innovation in their overall security program management, implementation and oversight.
Once nominated, the nominees go through a vigorous national vetting process that includes external vetting and a national team review. The national review team then consolidates and ranks the nominations, and that ranked listing is submitted to the Director of DSS for final approval.
Pictured are: Bob Frank, Associate Division Manager; Gary McDonald, ISSM; Stacie Miller, Division FSO; Jessica Fuller, Site FSO; Amber Thayer, Security Specialist; Daniel Payne, Director, DSS; Regina Johnson, Regional Director, DSS Southern Region; Michael Halter, Deputy Director Industrial Operations, DSS; and James Kren, Deputy Director, DSS. Not pictured: Larry Handley, ISSO.