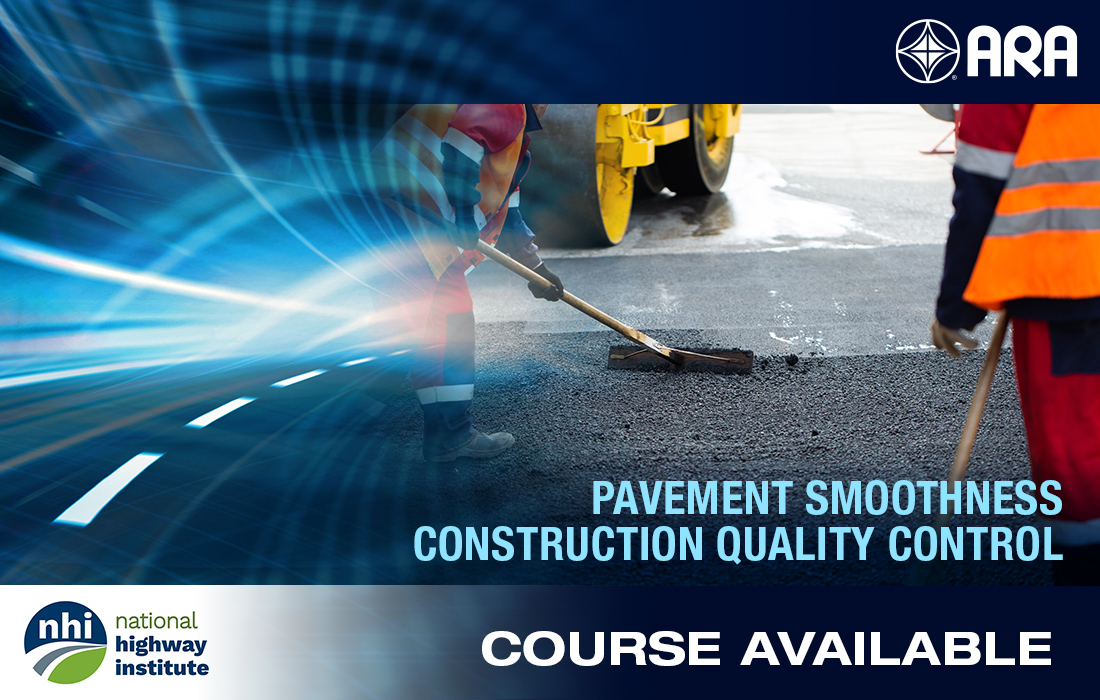 Applied Research Associates, Inc. (ARA), in conjunction with Auburn University's National Center for Asphalt Technology (NCAT) is pleased to announce it is the provider for the National Highway Institute training course, "Pavement Smoothness: Use of Inertial Profiler Measurements for Construction Quality Control (NHI-131100)."
Studies have shown that roughness is one of the biggest priorities of highway users. Additional studies have shown that pavements that are built smooth stay smoother longer and provide a longer pavement life. Most State highway agencies (SHAs) have some type of smoothness specification that is used to evaluate the smoothness of newly constructed or rehabilitated pavements during acceptance testing. Many agencies also have incentives or disincentives for new construction and rehabilitation, which are based on pavement smoothness.
Increasingly these agencies are turning to inertial profilers as the most reliable instrument for construction acceptance testing and verifying pavement smoothness. The intent of this course is to train inertial profiler operators in the basics of performing construction acceptance testing and to train those reviewing the data to comprehend how those data were obtained and what they represent in order to build smoother riding roadways.
Upon completion of the course, participants will be able to:
Perform checks of the inertial profiler components to identify that the equipment is in proper working order.
Determine the impact of current surface and environmental conditions on data collection.
Collect profile data using appropriate operating techniques.
Calculate a smoothness index using appropriate data processing techniques and computational procedures for use in construction quality control and specification compliance.
Identify what features in a collected profile are manifested in a smoothness or roughness index.
Click here or contact Daniel D'Angelo at ddangelo@ara.com for more information on the course.
Instructors
Jason Nelson, MCE joined NCAT staff in 2007 as an assistant research engineer. During his time at NCAT's main lab, he worked on numerous research projects, and multiple projects for the Alabama and Georgia Departments of Transportation (DOTs), among others. Additionally, he oversaw testing activities and accreditation in the aggregate lab. In 2011, Nelson joined the research team at the NCAT Pavement Test Track. He also oversees NCAT's Profiler Certification Program. In 2018, he accepted the position of test track manager and continues that work today, managing day-to-day research and fleet activities for the test track. The 2021 Track Research Cycle is funded by the nation's largest Transportation Pooled Fund and, in partnership with Minnesota Road Research Facility, provides guidance to 34 of the country's state transportation agencies.
Grant Julian, MCE, PE began his career at the NCAT main lab in 2008 as an assistant research engineer. In this role, his work focused on advancing sustainable pavement technologies such as the use of warm-mix asphalt, high RAP content mixes, and recycled asphalt shingles. During his time at the main lab, his responsibilities included training lab technicians and students, managing research projects, analyzing technical data, and assisting in preparing technical reports. He also managed NCAT's mobile lab and field research operations, supervised the FWD operations at the NCAT Test Track, managed the AMRL calibration records for the NCAT laboratory, and instructed various training courses.
Travis Walbeck, PE currently serves as the training manager and an engineer for NCAT. He has worked as a civil engineer for 22 years, early on as a consultant in the fast-growing communities of southern Utah and Nevada, and later in West Virginia. While in West Virginia, Walbeck moved to the public sector with the West Virginia Division of Highways, first as the asphalt group supervisor then as the state pavement engineer. Both WV DOH positions were within the Materials Division. In these roles, he oversaw the federal paving program, preservation programs, pavement testing, pavement management, asphalt technician certification programs, and more.
Contact:
Daniel D'Angelo, P.E., PMP, NAC
ARA Principal Civil Engineer
ddangelo@ara.com