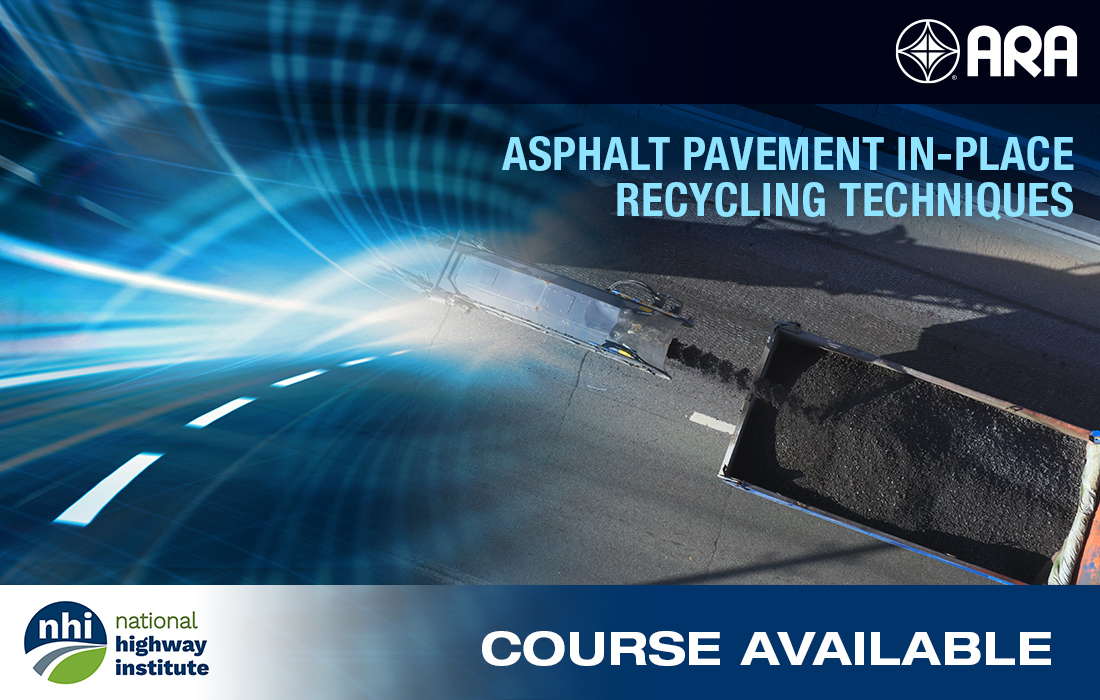 Applied Research Associates, Inc. (ARA), in conjunction with Auburn University's National Center for Asphalt Technology (NCAT) is pleased to announce it is the provider for the  National Highway Institute training course, "Asphalt Pavement In-Place Recycling Techniques (NHI-131050)."
The use of recycled materials in asphalt pavement construction is supported by the Federal Highway Administration (FHWA) and other transportation organizations for a number of reasons. Recycling asphalt pavements is often more cost-effective than more traditional rehabilitation and reconstruction alternatives. When designed and constructed effectively, these pavements perform well under a range of traffic levels and environmental conditions. Additionally, recycling provides sustainable, environmental benefits, including a reduced carbon footprint, the preservation of natural resources, and the reuse of high-quality aggregates contained within the existing pavement.
Transportation agencies focusing on the use of sustainable, cost effective, and environmentally friendly construction practices must consider recycling techniques as a viable alternative to the more traditional rehabilitation techniques used on asphalt-surfaced pavements. However, increased guidance is needed on selecting the appropriate recycling technique for a given set of conditions, choosing the appropriate materials for the project, developing suitable specifications, and constructing those projects effectively. This course presents the current technology available in the asphalt pavement recycling area and provides the guidance necessary for transportation agencies to use and construct those techniques effectively.
Upon completion of the course, participants will be able to:
Describe the economic, environmental, and engineered performance benefits associated with using recycling
Identify the key factors that contribute to the selection of appropriate asphalt recycling techniques under different traffic levels, pavement conditions, and environments
Identify the key requirements in developing effective recycling construction specifications including method specification, warranty, and end result or performance specifications; Demonstrate the ability to select the appropriate new materials, e.g., binders and aggregates, and additives needed for each of the three asphalt recycling techniques; and list steps that can be taken to address a variety of issues that may impact the constructability of a project.
Click here or contact Daniel D'Angelo at ddangelo@ara.com for more information on this course.
Instructors
Adriana Vargas, PhD, NCAT, has 15 years of experience in the pavement engineering field. She has worked as a private consultant in pavement design and rehabilitation, and pavement management, and has worked closely with agencies implementing and updating pavement management systems and developing maintenance and rehabilitation strategies for their pavement networks. Vargas has taught various courses and workshops related to pavement preservation, pavement management, pavement design and evaluation, and asphalt mixture design and testing. She has over 40 peer-reviewed journal publications and conference papers and served as chief editor of the journal Infraestructura Vial. She also teaches the graduate-level course on Pavement Management and Rehabilitation at Auburn University.
Ben Bowers, PhD, P.E., NCAT, has emerged as a national leader in cold recycling techniques, delivering numerous invited presentations on the topic along with several publications. Bowers earned his doctorate in civil engineering from the University of Tennessee, Knoxville in 2013 and joined Auburn University (AU) as an Assistant Professor in the Civil Engineering department in 2018. Prior to joining Auburn, Bowers worked at VTRC for 4.5 years, dedicating a significant amount of his time to cold recycling research. Additionally, Bowers' research includes the areas of resilient and sustainable paving materials, innovative test methods, and geotechnical engineering. He is the author or co-author on more than 50 technical papers and reports.
Travis Walbeck, PE currently serves as the training manager and an engineer for NCAT. He has worked as a civil engineer for 22 years, early on as a consultant in the fast-growing communities of southern Utah and Nevada, and later in West Virginia. While in West Virginia, Walbeck moved to the public sector with the West Virginia Division of Highways, first as the asphalt group supervisor then as the state pavement engineer. Both WV DOH positions were within the Materials Division. In these roles, he oversaw the federal paving program, preservation programs, pavement testing, pavement management, asphalt technician certification programs, and more.
Contact:
Daniel D'Angelo, P.E., PMP, NAC
ARA Principal Civil Engineer
ddangelo@ara.com
(518) 526-5738