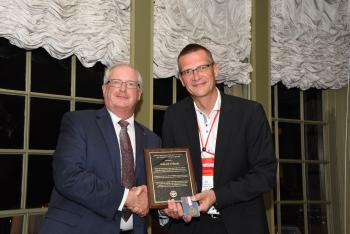 An Applied Research Associates, Inc. (ARA) program director and group leader, Edward Urbanik, has been named an Edmond S. Gillespie fellow by the Antenna Measurement Techniques Association (AMTA).
The AMTA created the Edmond S. Gillespie Fellowship to recognize members for their outstanding and pioneering contributions to the theory, practice, and art of antenna and radiofrequency (RF) measurements. It is the highest level of membership in the AMTA organization.
The criteria for the award include contributions to AMTA in two of the following three areas: significant technical contributions through publications; excellence in education in the field of antenna measurements; and dedication through active AMTA service.
Urbanik is one of two 2018 AMTA fellows. In addition to serving as a program director, Urbanik is the RF Technologies group leader at ARA's BerrieHill Research Division and is a recognized authority in radar cross section (RCS) testing, RCS test planning, and RCS data presentation. He is serving a three-year term as secretary on the ATMA Board of Directors, as well as multiple AMTA committees, and is a senior member of AMTA as well as the Institute of Electrical and Electronics Engineers (IEEE). He is also certified as a Project Management Professional (PMP) and is an active member of the Project Management Institute (PMI).
Urbanik specializes in: RCS management and control; electronically scanned phased arrays; materials and radomes; antenna RCS analysis and measurement; integration of apertures (RF and electro-optical/infrared) and radomes into stealth vehicles; and more. He received the award Nov. 7 at AMTA's annual Symposium Awards Banquet in Williamsburg, VA. His contributions in this field exemplify ARA's continued dedication to technical leadership in the area of RF measurements.
The AMTA was formed in 1979 as a professional organization open to individuals with an interest in antenna measurements. Members come from a variety of backgrounds including industry, government, and educational institutions, and from many countries around the world.
For more information on ARA's RF technologies, visit www.ara.com/electromagnetics/