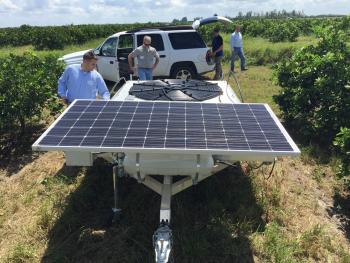 Applied Research Associates, Inc. (ARA) has teamed up to work with the United States Department of Agriculture (USDA) to combat one of the biggest threats to sustainable citrus production in the world. Citrus Greening, also known as Huanglongbing (HLB), has devastated millions of acres of citrus crops with an economic impact estimated at $1 billion per year in Florida alone.
The insect borne disease, caused by a species of Candidatus Liberibacter bacteria, has no known cure. Affected trees produce misshapen fruits that are hard, undersized, bitter, green and unsuitable for sale, crippling harvests and resulting in significant economic losses. The disease also causes the abortion of seeds in the fruit and ultimately the entire plant dies. HLB is also the main reason blended juices and flavors are prevalent at grocery stores now.
The team developed a way to mitigate HLB's effects by creating a field-scale, hydro-solar thermotherapy system. ARA's method involves cost-effective, automated and robust trailers powered completely by the sun. The method restores HLB-infected trees to productive health using solar-generated hot water carried on a field-ready trailer that includes automated control, solar power and pumping, with the appropriate instrumentation to guarantee effective treatments.
Theories and previous design parameters were tested with a Mobile Thermotherapy Laboratory (MTL) in situ and the outputs of the automated solar system were dialed in with engineered pseudo trees.
ARA's method involves applying solar-generated hot water to the trunk of the trees through thermal wraps. Placing more temperature over longer durations into the tree, ARA's method has shown increased yields and decreased fruit drop in initial tests. The system is also scalable to allow treatment of large areas simultaneously through the use of multiple trailers.
ARA has moved beyond the USDA test sites and is fielding a large-scale system in a commercial grove.
The ARA and USDA team measures treatment effectiveness through analysis of RNA, DNA, disease index, fruit quantity, along with a qualitative analysis of degrees Brix, a measure of total soluble solids in the juice, including sucrose, glucose, fructose, citric acid and minerals. The initial grove data is showing great promise as an effective in situ treatment of HLB.
"FROM TECHNICIANS WELDING ALUMINUM TO ENGINEERS TESTING OUTPUTS ON ENGINEERED PSEUDO TREES AND SCIENTISTS EVALUATING THE RNA AND DNA VALUES, ARA'S EMPLOYEES BRING ENTHUSIASM AND THE RIGOR OF GOOD SCIENTIFIC PRACTICES," – PROFESSIONAL ENGINEER GEOFFREY AIKEN, ASSOCIATE DIVISION MANAGER OF ARA'S TEST TECHNOLOGY DIVISION.
Contact
James Kainz
jkainz@ara.com
919-582-3362
This work was supported by the Department of Homeland Security Science and Technology Directorate under Agreement HSHQDC-15-C-0058.