Traditionally, military and local law enforcement personnel use pyrotechnic based flash-bangs to gain an advantage during entry operations. The blinding flash and concussive blast effect often leave an adversary momentarily stunned, giving tactical teams the advantage in most situations.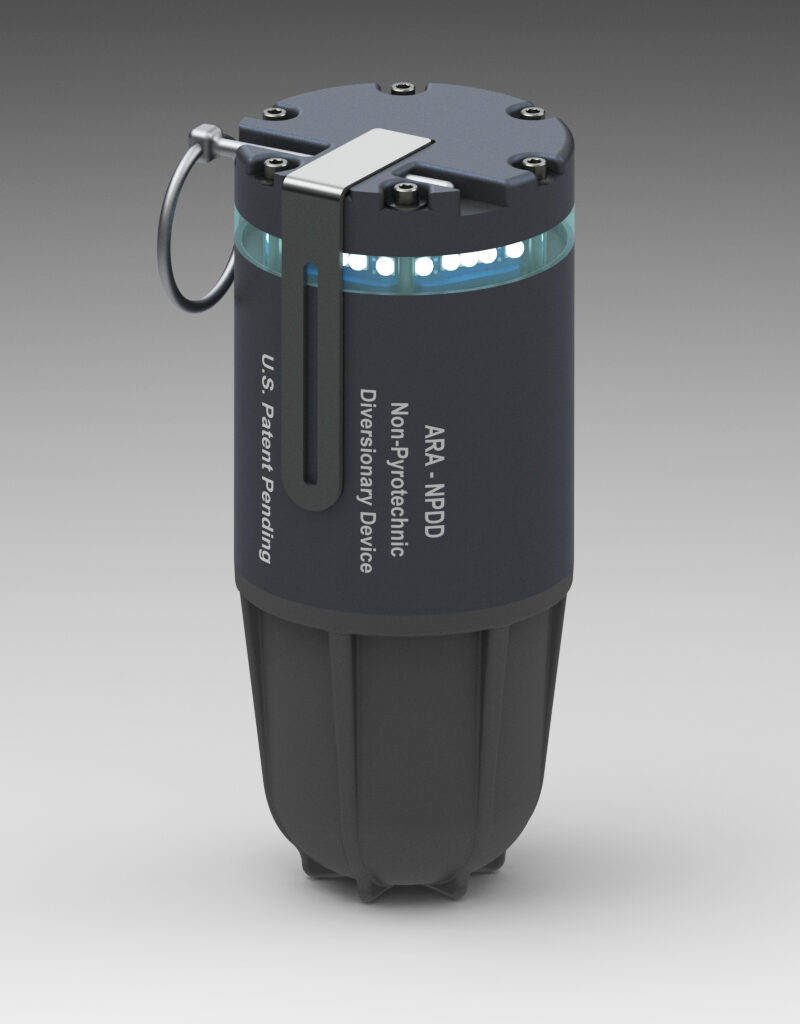 While highly effective, conventional flash-bang devices aren't appropriate for all situations – the heat and flame can have unintentional and catastrophic consequences, and have resulted in fires, injuries, and even death. The thick smoke produced from pyrotechnic flash-bangs can also hinder entry teams.
In order to give tactical teams an advantage in situations where the use of a pyrotechnic flash-bang is a poor or nonexistent choice, ARA has developed the Non-Pyrotechnic Diversionary Device (NPDD). The NPDD is a non-toxic, intrinsically safe diversionary device that uses a combination of non-pyrotechnic light and blast elements to create a distraction with similar effect to conventional pyrotechnic flash-bang devices with light and sound. In addition, the NPDD does not create any obscuring smoke or release hazardous toxins or inhalation hazards, making it ideal for repeated use in a training environment.
"While the NPDD is not intended to replace current pyrotechnic flash-bang devices, this technology allows operators, including special forces, military, state and local law enforcement, or other federal agencies, to use a diversionary device in training situations, where the NPDD is typically less expensive per use, and eliminates exposure to hazardous toxins and inhalants common to pyrotechnic devices," said Senior Engineer Richard Cayer.
"NPPD OFFERS USERS A SAFE, COST-EFFECTIVE, AND CUSTOMIZABLE TOOL TO ADD TO THEIR OPERATIONAL TOOLBOX." – SENIOR ENGINEER RICHARD CAYER
The NPDD can also be used any situation that would normally preclude the use of traditional pyrotechnic flash-bang devices:
In training situations where the NPDD is typically less expensive per use and eliminates exposure to hazardous toxins and inhalants.
In situations that would normally preclude the use of traditional pyrotechnic flash-bang devices (due to, for example, personnel injury concerns, fire hazards, sensitive materials, etc.)
In training or operational scenarios conducted in smaller spaces, where the full intensity of a standard flash-bang is not needed, or may be dangerous.
The device uses compressed CO2 to pressurize a replaceable bursting cap to produce diversionary concussive force and acoustic impulse with a peak sound pressure level of 165 decibels. The NPDD uses LEDs and a replaceable commercial-off-the-shelf (COTS) battery with supercapacitors to produce an ultra-bright flash of light.
ARA's device features interchangeable burst caps, so the acoustic impulse and concussive force are customizable. The NPDD also features a customizable flash sequence and fuze delay. The NPDD is submersible for maritime operations, and replacement parts are inexpensive. The NPDD can be safely and cost effectively used for training and operations of all types.
Deployment and use of the NPDD is operationally similar to a traditional pyrotechnic flash-bang, minimizing training time. While similar in size and shape to a traditional flash-bang, the NPDD features unique tactile features to help operators differentiate between the two different devices regardless of lighting conditions. In addition, the NPDD was designed in such a way that rearming for subsequent shots can be performed quickly and efficiently, even by a novice operator.
In 2017, the Texas A&M Extension Service (TEEX) announced ARA was one of three winners in its Defense to Response Showcase, which recognizes companies developing technologies to enhance emergency response and homeland security.
To identify the winners, TEEX conducted a national solicitation and identification of DoD technologies that could be transitioned and commercialized to enhance public safety and security. Twelve finalists were invited to present their technologies at the Defense to Response Technology Showcase and three technologies, including ARA's, were selected by a panel of judges.
The device recently drew interest from law enforcement at the 2018 National Sheriff's Association Conference and Exposition in New Orleans, where it was demonstrated. The device is only sold to law enforcement and military personnel.
For more information on scheduling a demonstration or purchasing the NPDD visit www.ara.com/npdd.
Contact
Brian Zadler
npdd@ara.com
303-795-8106