Sentinel™ is the "software backbone" of ARA's integrated security command and control system. The secure and completely scalable system is custom tailored to meet customer's highest security threats and compensate for surveillance blind spots. Sentinel creates a head-end network to manage alerts and data from fixed sensors, cameras, ground radars, automated entry control and pre-set alarm zones to provide an enterprise solution. The system is also capable of managing mobile detection and assessment assets such as the RAPID® system, Pathfinder unattended ground sensors and UAS "fly-to-cue" surveillance.  
Sentinel is Security Equipment Integration Working Group (SEIWG) ICD 101 compliant, meeting the DOD communications protocol standard. Defense-in-depth is provided through successive detection, assessment and interrogation modules that provide all-weather, all-environment, layered approach to security that begins outside the physical perimeter, identifying potential threats as far away from resources as possible. This provides a space buffer to give security forces time to react to prevent theft or damage to protected assets. Sentinel automatically manages the surveillance assets and provides alarm indications to ease cognitive burden and boredom on 24/7 security monitoring personnel,
Sentinel's "Capability Modules" range from wide area intrusion detection of potential ground, water and airborne (UAS) threats, to perimeter security around a single or groups of assets, to monitoring/protection of individual doors and rooms (witness/interview and intoxilizer) from an unlimited number of sensors. Sentinel integrates automated entry and access control to include license plate reading, reverse entry protection, vehicle and facial recognition, as well as Radiation-Nuclear detection and automatic tracking. All these add-on capability modules can be seamlessly integrated into the Sentinel system to incrementally improve or expand security capabilities in response to mission change or increased threats.
EO/IR cameras with on-board analytics provide accurate immediate visual assessment with digital storage of all camera feeds. Sentinel also manages video motion detection enabled cameras systems. The system allows for replay and export of video from all system cameras to provide critical information to for investigations, training and evidence to support prosecution of offenses. 
Notable Sentinel™ Technologies
Integrates COTS hardware (improved technology and reduced cost)

Integrates many legacy sensors (radar, camera, BMS, motion, etc.)

Real-time control of detection systems

Identifies sensor locations

Ability to temporarily mask alarm zones for maintenance operations or other reasons

Geo-rectified GIS mapping provides accurate intruder location

Target tracking (breadcrumbs) provides traceable path for post-event investigation

Modularity provides scalability from a single sensor to hundreds of inputs (easy expansion)

IP based multiple display locations and range of display options (single screen to video wall)

Automatic user defined alarm response checklists included in each alarm window

Alarm response requires two-step operator action to prevent inadvertent silencing of alarms

Allows inclusion of environmental conditions in alarm response checklist for trend analysis

Built-in measuring tool for accurate determination of distances

Automatic cordon creation eliminates need for printed maps, acrylic discs and grease pencils/dry erase markers
Why these Technologies are a Game Changer 
Proven Sentinel technology, with over 15 years of service at multiple military installations
Automatically presents the right information at the right time to the system operator
Low false alarm rate from AI algorithms
High system availability >95%
Sensor agnostic, allows integration of state-of-the-art technology and a wide variety of sensors to meet detection and assessment requirements
Agile – rapidly responds to changes in threat or requirements scaling with new capability modules

Modularity allows adding new capabilities to existing baseline

Eliminates requirement to start fresh with each new technology upgrade

Future-proof to change with technology

Secure encrypted wired and wireless communications for fixed and mobile applications

Immediate visual assessment via automatic "fly-to-cue" and target tracking

System-wide health and status monitoring

Internet or Closed Network (VLAN) Sentinel™ configurations

Automatic alarm and event history with scalable duration based on operator's requirements

User defined system editing permission levels allow operator customization of user interface yet ensure system integrity
Why It Works
Sentinel provides the capability to integrate a wide variety of sensors into a single management display to provide a complete base defense system. It provides defense in depth starting at wide area intrusion detection and visual assessment of ground, littoral and tactical small unmanned air system (sUAS) to identify a possible threat as far away from the protected assets as possible. The Command and Control Display Equipment (CCDE) user interface accurately displays all sensor locations, ground-based radar detection radii and assessment camera angles on a geo-rectified map also pinpointing the exact location and direction of travel of acquired targets. This provides space to allow defense forces time to determine the intent of the intrusion and dispatch forces to the right intercept location to prevent access to protected resources. Sentinel's layered defense includes progressively smaller yet distinct user defined detection zones as distance to protected assets decreases. Multiple sensor phenomenology can be applied based on detection requirements (radar, fiber, motion, unattended ground sensors, etc.). Sentinel also integrates CCTV to include audio for monitoring base/facility perimeters, entry access portals, gates, internal circulation, armory/guardmount areas, interview and breathalyzer rooms, etc.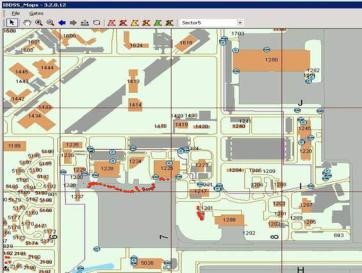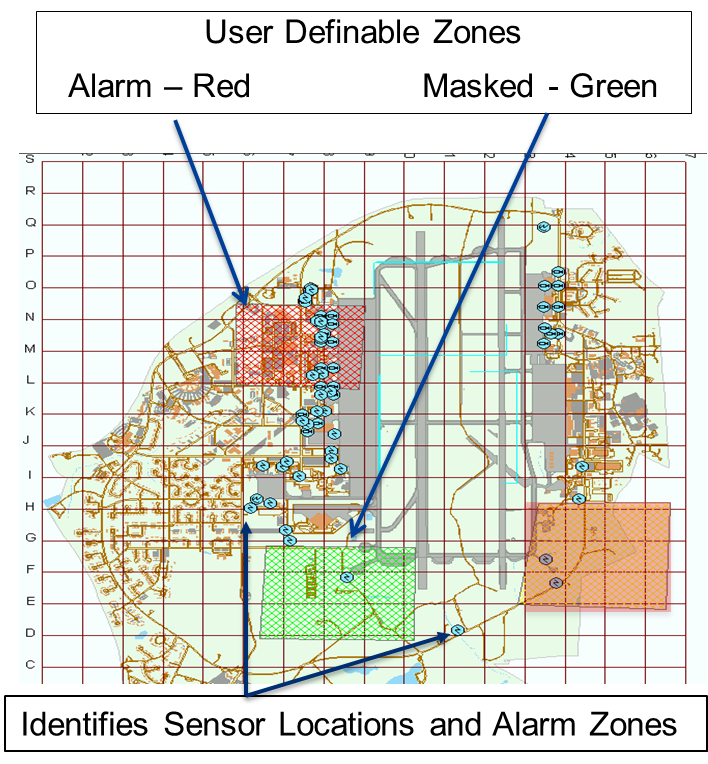 The following types of sensors have been integrated into Sentinel command and control systems:
Ground-based radars

EO/IR Cameras

Facial recognition

UAS Detection Radars

License Plate Readers

Pathfinder Seismic Sensors

Remote Automated Portable Intrusion Detection (RAPID®) System(s)

Balanced Magnetic Switches

Fiber Optic Sensors

Leaky Coaxial

PIR Sensors

Nuclear/Radiation Sensors and Portals
Fixed and mobile wide area and perimeter intrusion detection and assessment

IP-based primary and alternate command and control capability

Remote Administrator workstation reduces security desk operation interruptions

Automatic network video recording of all camera video and audio

Ergonomically designed command and control displays to reduce operator fatigue

Options for additional remote monitoring stations
Military & Commercial Airfields

Critical infrastructure

Private Security & Prison Command & Control Centers

Ports & Freight Terminals