One Step Ahead of Your Threats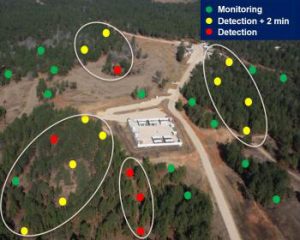 Pathfinder is the premier footstep and vehicle detection system designed for the critical infrastructure, private security, military, and border security markets.
It provides an expendable, affordable, actionable, and undetectable early warning capability allowing the operator to "find the path", inferring movement patterns, routes, key locations, and likely intent. The power of Pathfinder is that it accomplishes all this before the threat can cause damage or inflict harm.
The technology and advancements in Pathfinder stem from over a decade of United States military feedback on ARA's original seismic sensor system. With over 48,000 units delivered around the globe, our sensors continue to be employed by Soldiers in numerous regions today.
Most notable to the next generation Pathfinder sensors are:
Improved machine learning algorithms resulting in higher probability of detection and lower false alarms

Significantly improved battery life

Mobile alert notifications

Intuitive app-based interface

Simplified emplacement

Enhanced mapping technologies
These wide-ranging improvements provide greater mission applicability in specific areas such as cross-border security, counter terrorism/trafficking/narcotics, critical infrastructure protection, and system integrators.
Why It Works
To be successful, threats require two things, surprise and maneuver. Pathfinder eliminates both by covertly detecting, identifying, and monitoring threats before they can cause damage or inflict harm.
Pathfinder provides what other sensors can't by allowing users to intervene against threats at the most opportune moment, making it appear as 'chance contact'. Detailed activity monitoring lets users easily keep the threat's tactics, techniques, and procedures intact while giving no indication that his activities have been compromised.
Extended battery life (MINI sensor: up to 6 months; XL sensor: up to 24 months)

Focused detection radii and point detection capability

Long range detection reporting without the use of gateways and relays

Line of sight, non-line of sight and beyond line of sight capable

Intelligent, machine learning algorithms

High probability of detection and low false alarm rate

Fixed site and mobile detection receipt and monitoring

Ruggedized sensor capable of withstanding a wide range of climates and terrains
Border Security

Critical Infrastructure Protection

Refugee Migration

Livestock/Timber Theft

Counter Trafficking/Narcotics/Terrorism

Search and Rescue

Military Operations

Anti-Poaching

Vandalism and Theft

Pipeline and Well Security

Prison Perimeters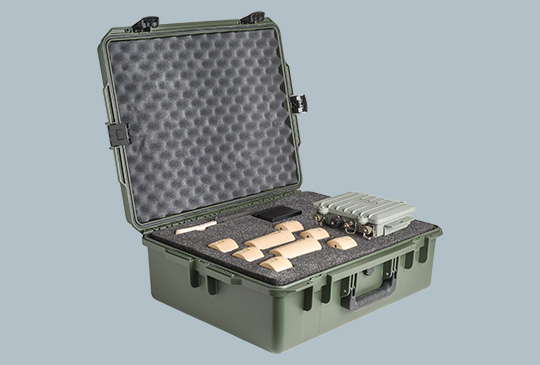 Receiver Kit
The Receiver Kit includes base station with Pathfinder software installed, waterproof Ethernet receiver, antenna, ten foot antenna cable, user manual, antenna mounting hardware, installation tools, and quick reference cards.
Sensor Kit
Additional sensors can be seamlessly integrated into the Starter Kit, expanding your detection coverage area.

Kits normally include 60 MINI sensors or 30 XL sensors. Individual sensor quantities can be customized

.
The PATHFINDER commodity has been classified in accordance with Export Administration Regulations ECCN [6A999.a]. Diversion contrary to U.S. Law is prohibited. In accordance with U.S. Law (Title 15 CFR Part 746 and Supplement No.1 to Part 744; and Title 31 CFR) resale/re-export or transfer to certain designated countries is prohibited without prior written consistent of the U.S. Department of Commerce. Products classified under this ECCN may or may not require an export license depending on the destination, the user or the end use of the item.