Otonos Increases Safety and Efficiency
Optionally manned vehicles are the best of both worlds. Otonos outfitted vehicles can be manually operated like normal but switched to unmanned mode quickly to distance the operator from danger or autonomously execute a specific mission creating a force multiplier effect saving lives and/or saving money.
Remote Control Operation
Our Otonos family of products brings remote control operation and semi-autonomy to a variety of commercially available vehicles and heavy equipment.
Otonos allows equipment operators to do the job from the comfort and safety of a truck cab or trailer, eliminating the risk of many dull, dirty, and dangerous jobs. Otonos is designed to install into a vehicle quickly, and provide audio, HD quality video with all the gauges, alarms, and feedback you'd see as if you were piloting the vehicle normally, all while maintaining the ability to drive the vehicle manually with the flip of a switch.
ARA is continually increasing the list of vehicles that Otonos provides plug-and-play compatibility with.
A-Kit/B-Kit Architecture
Otonos incorporates an industry standard A-Kit/B-Kit architecture promoting a modular architecture for ease of installation and movement of kits between different platforms (e.g., between a Compact Tracked Loader and Wheeled Front Loader). Specific advantages of the A-Kit/B-Kit architecture, include modularity, expandability, usability, and reuse. For example, if a customer has multiple platforms, all of which could be remote controlled, the customer can install a low cost A-Kit interface on each platform, converting it to a "remote ready" state. The B-Kit, which includes more expensive items such as cameras and other sensors, GPS, radios, etc. can then be easily moved from platform to platform as needed for the mission. Installation of a B-Kit can typically be accomplished in well under 30 minutes. ARA recently demonstrated this capability to the US Air Force, installing A-Kits on a CAT 279 CTL and a front end loader. We first operated the CTL remotely, demonstrating all functionality, and then moved the B-Kit from the CTL to the front loader in under 5 minutes and proceeded to demonstrate front loader remote functionality.
Semi-Autonomous Developmental Capabilities
ARA and Neya Systems (our vehicle autonomy and mission planning experts) have a strong record of developing semi-automated technical solutions that employ state-of-the-art technologies. Using industry standard interface protocols [Joint Architecture for Unmanned Systems (JAUS) 4.0, CAN, the Robotic Operating System (ROS), and Vehicle Integration for C4ISR/EW Interoperability (VICTORY)], ARA has integrated sensor technologies such as the latest generation of Light Detection and Ranging (LiDAR) systems (e.g., Velodyne VLP-16 and VLP-32 sensors), Global Positioning Systems (GPS), Inertial Measurement Units (IMUs) and multiple camera technologies, fusing the data to generate a single integrated localized model for semi-autonomous operations. Fusing the data allows us to meet mission use cases such as leader/follower, Obstacle Detection/Obstacle Avoidance (ODOA), area coverage, waypoint navigation, and in the future, swarming.
Semi-autonomous systems are quickly maturing to a task based approach where a robot will receive a series of operator-defined high level tasks with associated priorities (Move to this location, perform digging task, move to second location, off-load payload, etc.). During mission planning, the user interface receives these commands from the operator and passes them on to the autonomy software. The operator then executes the mission, taking on a supervisory role only for semi-autonomous systems. ARA has investigated a variety of systems with potential to meet the semi-autonomous user interface requirements, including the Army's Android Tactical Assault Kit (ATAK), which is an integrated framework for Android applications. Mapping, software georectification, video streaming, and other useful interface features have already been integrated into ATAK.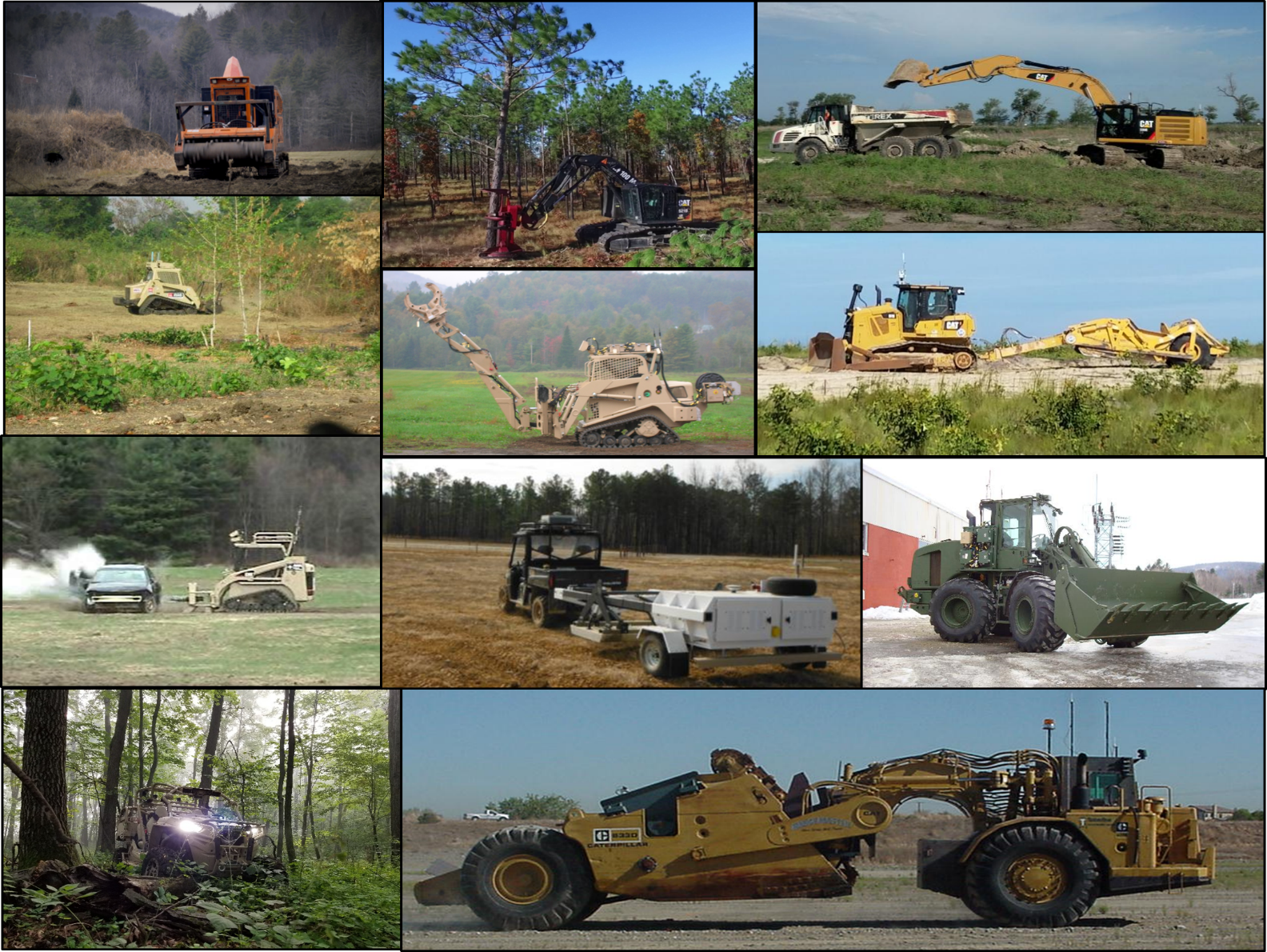 Otonos Components
Versatile and simple, the Otonos can convert Controlled Area Network (CAN)-controlled platforms to robots in just a few hours. 
Vehicle Interface Controller (VIC)
The VIC converts Joint Architecture for Unmanned Systems (JAUS) or Robot Operating System (ROS) messages received from the remote operator control station into vehicle and tool specific operations. Without a need for mechanical actuation, the VIC-CAN interface is truly "plug-and-play" and users can swap between remote and manual platform operations with a simple flip of a switch. The VIC's small size, light weight, and durable construction allow it to be installed without inhibiting manual operation. With the VIC installed, the platform is remote control/autonomy ready. 
Tele-op Box
The Tele-op box on the platform provides data and video radio communication between the vehicle (VIC) and the remote Base Station. In addition to communications, the Tele-op unit interfaces with the various sensors used during tele- and autonomous operations.  Sensors range from EO/IR video cameras (up to 8HD cameras can be supported) and LiDARs to GPS receivers.  Video camera interfaces are of the latest Power over Ethernet (PoE) technology. 
Base Station
The Otonos's rechargeable battery-powered Base Station provides the radio link between the remote operator and the Tele-op module on the vehicle.  Radio frequency options are 2.3MHz, 2.4MHz, and 5.8MHz. 
Operator Control Unit (OCU)
The OCU laptop / X-box controller, connected to the Base Station via Ethernet, is the user's interface to the robot.  It is customized for the platform and tools to remotely execute desired commands (e.g., start, steer, dump) and provide vehicle feedback information (e.g., fuel level, throttle, camera feeds) to the operator.
E-Stop
E-Stop is a stand-alone, rechargeable battery-powered unit that provides stopping power for safety and emergency situations. The E-Stop can be carried by observers or left with the remote operator.  The system is completely redundant, operating on its own radio frequency and triggering a safe stop when robotics or manual stop cannot be used.
Alternate Control System
For radio-denied EOD operations, the ACS is a "smart" fiber optic communication system that automatically deploys and retrieves the fiber optic cable as the platform travels.  A large fiber spool enables operations up to 1.5 miles from the Base Station. 
Facilities
ARA produces robotic platforms and related technologies, sensors, geo-environmental equipment, pavement testing machines, and other specialized hardware at our Vermont facility under an ISO 9001:2015 certification. We apply lean manufacturing and Six Sigma principles to optimize processes and efficiency.
The facility comprises over 63,000-ft2 of space including offices, shops, laboratories, dedicated QA/QC areas, a clean room, inventory storage/control, and large indoor testing areas. A majority of the space is used for prototyping, manufacturing, storing and maintaining ARA products. 47 acres of open space provide abundant outdoor testing areas for robotic unmanned ground and air vehicles, sensors, etc.
The ARA facility includes:
Computer Aided Design shop – Powerful work stations with SolidWorks, MATLAB, etc. to support component and system refinements and other specialized hardware needs.

Electronics shop – A dozen work stations for circuit board and electrical system troubleshooting and design operations. Fully equipped for circuit board fabrication (including surface mount), cabling, and testing.
Machine shop – Computerized CNC, lathes, drill presses, ovens, etc. support rapid prototyping and fabrication of mounts or other customized parts.
Fabrication and maintenance shop – Versatile area capable of handling large robotic platforms such as tractor trailer trucks and construction equipment. Well equipped with hand, electric, and pneumatic tooling for assembly, maintenance, and repair of robotic platforms and integrated components/tools. 
QA/QC shop – Provides testing of components, subassemblies and complete assemblies to ensure quality at all key points in the manufacturing process as well as for checkout of repaired equipment.
Testing lab – Large open area with movable work stations that support testing of fully assembled robots and sensor systems.
Controlled access storage – A dedicated, secure area approximately 25' x 65' (1625-ft2) in the warehouse section of the facility.
Remote Control from up to 300 meters using operator's eyes and ears

Tele-operation from up to 2km away using vehicle cameras and sensors

Optional autonomous Follow-me / Return home / Go there / Dig here / Cut this tree, etc…

Independent Emergency Stop on vehicle and hand-held
Military applications for logistics, counter IED, CBRN, wing man, hasty breach

Hazmat removal of contaminated soils, buried objects or overturned tanker trucks

Police Bomb Squad/SWAT removal of suspicious packages/vehicles or barricaded suspects

Wild fire logistics support carrying firefighting equipment and evacuating wounded

Perimeter security putting mobile unmanned eyes, ears and voice on intruders

Steep slope forestry preventing injury from equipment roll-over

Search and Rescue in hazardous conditions potentially unsafe for human rescuers