Proven Capabilities Protecting Military Service Members
With over twenty years of proven success on hundreds of real-world operations, ARA's Otonos capabilities have been battle-tested and improved with feedback from the United States military. With its record of accomplishment, Otonos is now ready for use by other militaries throughout the world to take existing manned vehicles and make them optionally unmanned thereby temporarily distancing service members from many hazards.
Small Multi-purpose Equipment Transport (SMET)

ARA formed Team Polaris in 2017 to support the Army's SMET program with a robotic version of the Polaris MRZR called the MRZR® X . ARA was the prime contractor and was also responsible for "roboticizing" and integrating Multi-Mission Payloads (MMPs) from a variety of vendors. Neya Systems (Neya), a wholly owned subsidiary of ARA and a non-traditional defense company, was responsible for interoperability (IOP) compliant software and vehicle autonomy. Polaris Defense (Polaris), also a non-traditional defense contractor and an integral part of Polaris Industries, Inc. designed, developed and manufactured the manned MRZR® X. ARA procured the manned vehicle from Polaris and turned it into an optionally manned/unmanned system for timely delivery to the Army for SMET. Under a separate Army contract, Neya is currently using the MRZR® X to develop advanced, semi- autonomous capabilities for the Next Generation Combat Vehicle (NGCV) program.
The MRZR® X  is a hybrid-electric, turbo diesel platform that offers two modes of optionally manned performance: pure electric, for silent drive and silent watch; and a parallel hybrid mode for extended range, past 200 miles without refueling. The MRZR® X generates power using military common heavy fuels to provide the Warfighter with ease of logistics. Additionally, the MRZR® X has a military-grade Controller Area Network (CAN) Interface Module (CIM™) that provides a secure autonomous interface with the by-wire network on the platform. This architecture provides the Government an A-Kit / B-Kit relationship pioneered under the Autonomous Mobility Applique System (AMAS) program.
ARA integrated and demonstrated to the Army an array of "plug-and-play" MMPs on the SMET platform, including a CROWS Remote Weapon Station outfitted with the Dillon M134 mini-gun, an Arnold Defense Fletcher 4-tube, 2.75" rocket launcher, a Thales Federated Communications package, the TACFLIR 230 Intelligence, Surveillance, and Reconnaissance (ISR) camera, and the FLIR Black Hornet untethered UAS, among others. All of the payloads were IOP compliant and could be operated from the Android Tactical Assault Kit (ATAK) app, making command and control both efficient and effective.
ARA pilots received training on the FLIR Black Hornet, and proceeded to integrate the system mechanically and electrically onto the robotic MRZR-X. The platform and VRS were controlled using video and telemetry streams into ATAK, the Army's Android-based battlefield management app running on the soldier operator's MPU-5 radio. A USB joystick was plugged directly into this radio and the UAV could be launched and controlled from this application, and onboard video was streamed directly to a hardwired tablet also connected to the radio for viewing.
HMMWV Modernization Program
Allowing full remote control of multiple payloads from a safe distance while operating the robotic HMMWV will help modernize the vehicle allowing for more use in highly contested environments, a key Army goal for all of its platforms. These newly upgraded optionally manned HMMWVs will give soldiers the ability to manually drive or alternatively robotically control the vehicles removing soldiers out of extreme danger zones thereby reducing casualties.
The integration of a HMMWV specific low-level autonomy package would allow the use of government provided software for waypoint navigation, area coverage, and basic dynamic obstacle detection and avoidance. ARA and NS has an autonomy package that is TRL 4-5. This low-level autonomy package will expand the number of use cases the Army can apply to the HMMWV.
Drive by Wire (DbW) will utilize a design base chassis to an "autonomy ready" control architecture (A- Kit) that leverages ARA's proven Otonos (B-Kit). No added robotic equipment interferes with "normal" manned HMMWV operations. This DbW implementation allows real-time switching between manned and unmanned operations. Robotic modes include man in the loop, man on the loop and a suite of selected mission autonomy tasks.
ARA's Augmented Reality Command and Control, Communicate and Coordinate (ARC4 RECON) is advanced augmented reality (AR) technology that delivers heads-up tactical situational awareness, day or night. ARC4 is being added to HMMWVs with a holographic projection on the windshield and at the commander's console. ARC4 features visualization of geo-registered information to provide real-time situational awareness for outdoor, on-the-move applications. Rather than looking down at a 2D map or smartphone device, the user sees virtual icons overlaid on their real-world view with their head up and eyes out on the environment.
ARC4 is an AR fusion engine that incorporates advanced head tracking sensors and algorithms, network management software, and an intuitive user interface. It enables personnel teams to perform tasks with high awareness of their surroundings, in close coordination with each other, and with enhanced safety and speed. The icons allow the user to track targets, friendlies, routes, waypoints, and more, and ARC4 integrates with battlefield management systems such as the Android Tactical Assault Kit (ATAK) for real-time information sharing among occupants within the vehicle and with friendly units.
HUMMWV Modernization Possible Use Cases
Automated CASEVAC (go-there & return home autonomy)

Standalone weapon station (tele-operation – man on the loop)

Ground / Air Unmanned teaming (tele-operation or autonomy)

Autonomous launching a UAS off the HMMWV

On-board ISR package extending the range of the Unmanned ISR

Unmanned Obscurant deployment (tele-operation or autonomy)

Target training (tele-operation or autonomy)

Convoy applications (autonomy)

Resupply (autonomy)

Enhanced driver perception during manned operations (manned)

Pedestrian, sign, and road detection displayed on Heads Up Display (HUD)

Vehicle diagnostic data displayed on HUD

Vehicle state/mode data displayed on HUD (Cruise On, Blackout Mode, Headlights on, etc.)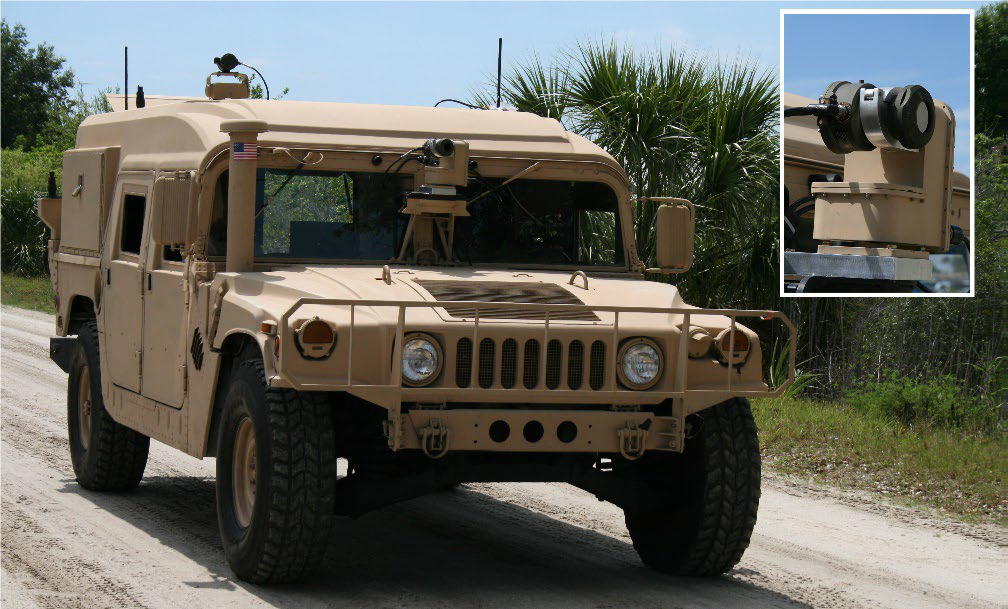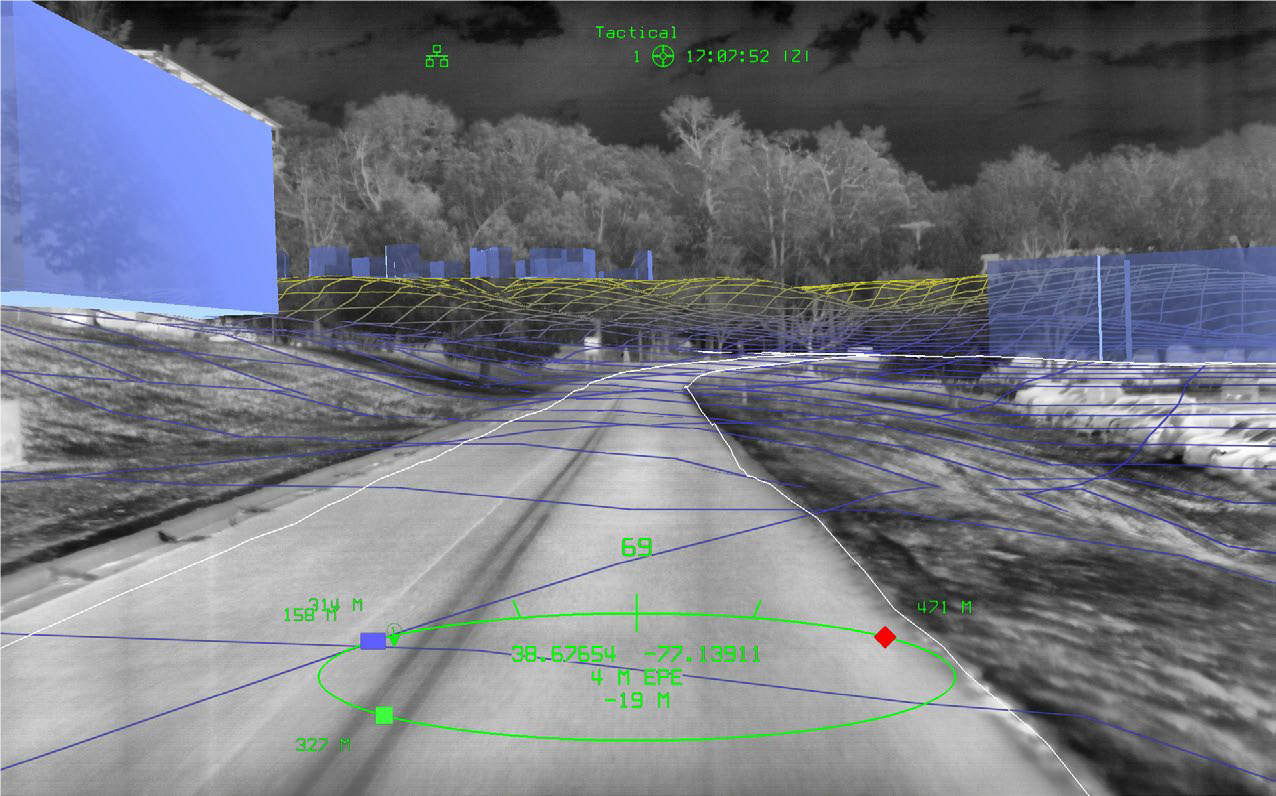 Remote Control from up to 300m distance

Tele-operations from up to 2 km distances

Multiple camera options with plug and play capabilities

Ruggedized sensor capable of withstanding a wide range of climates and terrains

Independent safety emergency stop capability

Optional semi-autonomy mission sets to reduce cognitive load

Intelligent, machine learning algorithms for perception, path planning and coordination of multiple unmanned air and ground vehicles

Optional fully integrated multi-mode communications network
Unmanned CBRNE Assessments

Unmanned Deployment of Smoke and Obscurants

Unmanned Reconnaissance

Unmanned Removal of Unexploded Ordnance

Unmanned IED and VBIED Removal/Defeat

Unmanned Village and Perimeter Security

Unmanned Route Monitoring/Clearance

Unmanned Rapid damaged airfield UXO removal and repair

Unmanned Hasty Breach