Proven Capabilities Detecting CBRNE Hazards using Automated and Networked Robotic Equipment
With over twenty years of proven success on hundreds of real-world operations, ARA's Otonos capabilities have been battle-tested and improved with feedback from the United States military CBRNE response teams. With its record of accomplishment, Otonos is now ready for use by first responders throughout the world to take existing manned vehicles and make them optionally unmanned thereby temporarily distancing themselves from many hazards.
Robotic Capabilities provided by ARA:
Aided Teleops. Beyond conventional teleops, we enable improved operator performance with aided teleops to help keep vehicles on-track especially in complex environments.
CoVeR Apps. We support the Combat Vehicle Robotics program by creating autonomy payloads and software to Army standards at our Neya Systems Division.
Full Autonomy. We continue to mature and demonstrate to the US Government ground vehicle autonomy operations in complex environments.
GPS-Denied Ops. We perfected capabilities that enable unmanned operations in complex, GPS-denied environments including underground.
Leader-Follower Ops. We currently support the Army in defining and refining key needs for ground-based unmanned Leader-Follower operations.
MOPP-/TAK-Compatible Heads-up Display for Situational Awareness and Unmanned Systems (UxS) Operations. We developed and delivered for kinetic applications a TAK-Compatible Heads-up Display for Situational Awareness. This Heads-up Display capability has been employed for UxS Ops with Black Hornet UAV.
MRZR-X UGV. We support the Army under FLIR Prime for NBCRV-SSU with two platforms delivered on-time.
Multi-Platform Mission Management. We possess core knowledge and capabilities to control multiple UxS platforms in real-time – both air and ground – in execution of complex tasks.
Open-Architecture UGV/Optionally-Manned Kits. We enable manned vehicles to be optionally/minimally manned.
TAK-based Control for MUMT Ops. In support of NBCRV-SSU, we developed and furnished software that enables Tactical Assault Kit based control of MRZR-X for MUMT, or Manned-UnManned Teaming.
Up-Powered MRZR-X. Our MRZR-X in collaboration with Polaris, enables the 10KW on-board generator to provide a range of on-board powering options.
Unmanned Payload Integration Capabilities provided by ARA:
Unmanned System Payloads. ARA created and integrated a wide range of UxS payloads. Examples include RGB and Thermal Cameras on UxS, Radar on UGV, Black Hornet Small UAV on Larger UGV, Adapted-COTS and ARA-Proprietary VTOL UAS on UGV, Small Bio-Detectors for UxS, Direct-Fire Weapons on UGV, and Large-Area Obscurants Payloads on UGVs.
Proven Experience
For nearly 25 years ARA has provided extensive technical and operational support to the CWMD and CBRNE Defense communities (DOD, DHS, and the IC). We supported the Department of Defense (DOD) development efforts at all phases of research, development, testing, and evaluation. This includes:
Downwind hazard calculations (HPAC) for tests involving release of a CBR agent simulants.

Implement state-of-the-art optical sensing including radiologic, overpressure, seismic, high-resolution/speed optical, infrared, thermal, radar, infrasound, laser, LIDAR, electromagnetic, geotechnical sensor suits; as well as specialized, one-of-a-kind, sensor applications and advanced prototype sensor technology.

Design, integrate, network, and analyze voice and data collection in remote and difficult field settings with significant environmental and logistical challenges.
As the lead developer of SMET, ARA is able to assemble the existing component sensor and platform data to derive greater operational utility through vehicle autonomy, modeling and simulation, artificial intelligence, augmented reality and rapid networking to the force thru ATAK.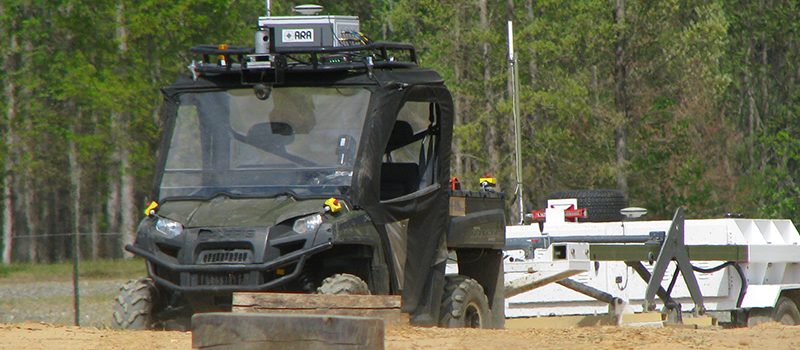 Remote Control from up to 300m distance

Tele-operations from up to 2 km distances

Multiple camera options with plug and play capabilities

Ruggedized sensor capable of withstanding a wide range of environments

Independent safety emergency stop capability
Unmanned Soil and subsoil removal of hazardous materials & chemicals

Unmanned Removal of vehicles leaking hazardous chemicals

Unmanned Placement of chemical detectors during emergency

Unmanned Search and Rescue in presence of hazardous materials & chemicals

Unmanned Site Monitoring/Clearance

Unmanned CBRNE assessments