Proven Capabilities Removing Explosive Hazards & Barricaded Suspects
With over twenty years of proven success on hundreds of real-world operations, ARA's Otonos capabilities have been battle-tested and improved with feedback from the United States military MP's, EOD & CBRNE response teams. With its record of accomplishment, Otonos is now ready for use by first responders throughout the world to take existing manned vehicles and make them optionally unmanned thereby temporarily distancing themselves from many hazards.
AF EOD – Airfield UXO Removal
In addition to over 80 All-Purpose Remote Transport System (ARTS) robots, ARA has delivered nearly 20 mid-size compact track loader robotic platforms (~100 total) over the past decade to various US and foreign military clients for Airfield Explosive Ordnance Disposal (EOD) operations. These platforms are at work worldwide, with ARA providing 24/7 support when needed. Platforms include vehicles from ASV, CAT, and Terex. The ARA engineering and fabrication team modified each platform (hydraulics, power, protective armor, etc.) to meet the specific application needs of the customer.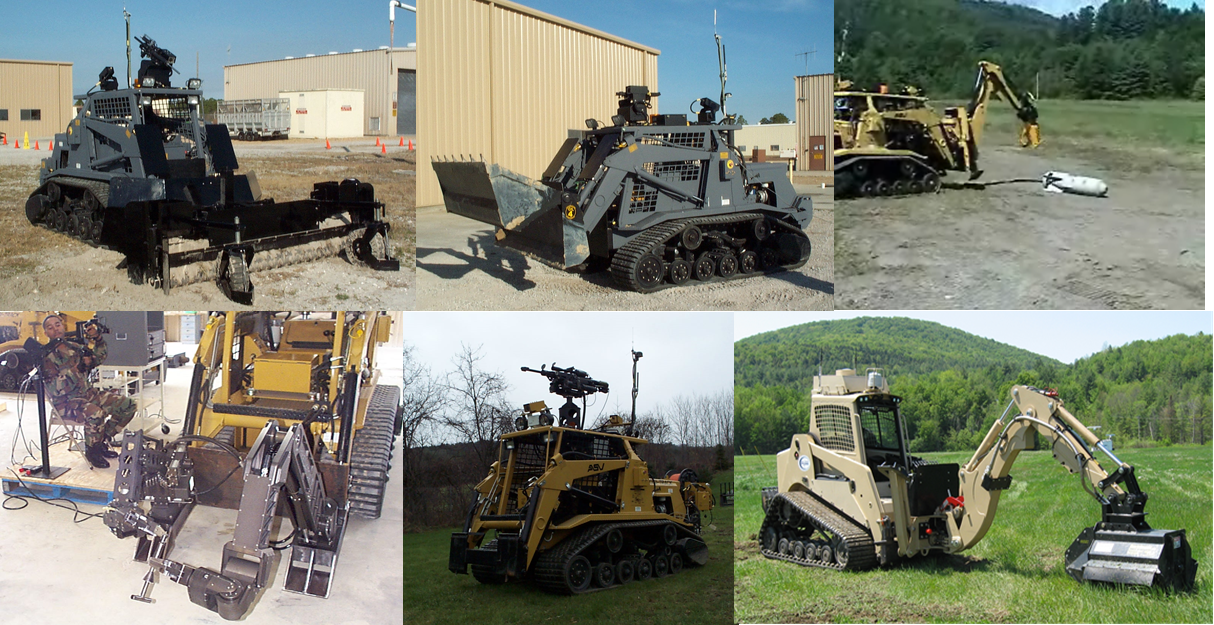 EOD Tools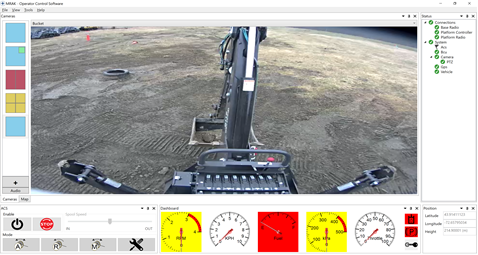 ARA has integrated a wide range of EOD tools onto its robotic platforms. In nearly every case, ARA developed quick-attach interfaces (physical, hydraulic, and electrical) between the tools and the platforms to facilitate rapid, facile tool swaps. 
A hydraulically actuated manipulator is best suited for the robotic arm based on the requirement for lifting heavy objects – electrically actuated manipulators have insufficient lift capacities. With 6 DOF (plus an integrated gripper), the operator can not only specify the 3D position (x, y, z) of the end-effector, but also the end-effector's 3D orientation (roll, pitch, and yaw), which is very important for work in unstructured environments. Long reach (80 in) enables it to access a variety of locations around the platform. Because all 6 DOF (and the gripper) have force feedback/reflection capability, allows the operator to "feel" exactly what the manipulator is doing. The combination of kinematic accuracy and the force feedback drastically increases the operator's efficiency and dexterity with the arm. A study performed at Eglin Air Force Base with the Predator manipulator deployed on an ARA platform showed an increase in productivity of almost 5-fold over that of a similar manipulator without force feedback when dismantling unexploded ordnance. We have also devised custom tool head attachments that attach easily ("quick attach") to a variety of robotic arms. 
Our ISO-compliant manufacturing team brings decades of relevant experience producing high quality, durable robots that operate in the harshest of environments around the world. And our support team will provide 24/7 response to inquiries from the field, assisting with troubleshooting and repair and performing on-site repairs when needed. Lastly, ARA R&D scientists and engineers are at the forefront of robotics research in areas such as enhanced situational awareness and autonomy.  New technologies such as these can be used to enhance EOD task performance saving valuable time and reducing injuries.
Remote Control from up to 300m distance

Tele-operations from up to 2 km distances

Multiple camera options with plug and play capabilities

Ruggedized sensor capable of withstanding a wide range of environments

Independent safety emergency stop capability
Unmanned Investigation & Removal of Suspicious packages and vehicles

Unmanned Removal of barricades, rubble and rock slides

Unmanned Search and Rescue in presence of hazardous materials & chemicals

Unmanned Site Monitoring/Clearance