Mitigating Explosive Threats at U.S. Airports
Airports serve a critical role in modern society on many fronts. Unfortunately, due to their prominent visibility and openness, airports are also a rich target for mass casualty explosive attack. Beyond the immediate human and economic consequence of such an attack, the potential also exists for triggering a cascading impact across the National Airspace System (NAS). Since the attacks of September 11th nearly 20 years ago, much has been done at the federal, state, and local levels to help provide a safer environment at airports for passengers, visitors, and staff. This presentation will go back through a brief history of requirements enacted at U.S. airports for mitigating explosive attack over the last 20 years and will also explore engineering-level approaches to implementing these requirements. The differences between implementing such countermeasures at existing facilities versus new facilities will also be discussed.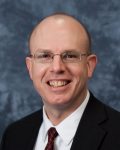 An ARA Senior Engineer and U.S. Air Force Gulf War Veteran, Mr. Herrle has supported over 20 different U.S. Government agencies, performing blast vulnerability assessments and designs in over 35 U.S. states and 15 countries abroad. His blast analysis and design experience for aviation facilities spans over 35 U.S. commercial airports, including large hubs such as San Francisco, Denver, Miami, Minneapolis/St. Paul, Salt Lake City, Phoenix and Charlotte. Ken conducted over 70 large-scale explosive tests of building facade and structural systems and served as national Vice-Chair of a U.S. Department of Homeland Security (DHS) working group for explosive modeling, simulation and testing. He also authored blast analysis and design content for national standards/guides for a variety of organizations including the U.S. General Services Administration (GSA), U.S. Department of State (DOS), U.S. Federal Aviation Administration (FAA), American Society of Civil Engineers (ASCE), American Institute of Steel Construction (AISC), American Institute of Architects (AIA), ASIS International (ASIS) and the National Institute of Building Sciences (NIBS). Ken is a licensed Professional Engineer in 10 states, Washington DC, and Puerto Rico, and holds ASIS Certified Protection Professional (CPP) and PMI Project Management Professional (PMP) certifications. He earned a Master of Science in Civil Engineering from Auburn University, a Bachelor of Science in Civil Engineering from the University of New Orleans, and an Associate of Applied Science in Electronic Systems Technology from the Community College of the Air Force.