Improving Human Driver Performance with Feedback
While learning to perform any task, humans require feedback from the environment in order to learn, prioritize, make decisions, and ultimately alter their behavior and performance. Family members, peers, the education system, training systems, and the surrounding environment all play a part in providing valuable feedback.
By providing drivers with a comprehensive evaluation of their trip-specific behaviors and deviations immediately following a trip these operators are able to see times when they were engaged in adverse or illegal behaviors that compromised safety during a time window where feedback is still accepted and able to be associated with specific time points by the user. Many new vehicles now contain In Vehicle Information Systems (IVIS) such as navigation aids, satellite radio and USB or Bluetooth music connection options, as well as text and phone dialing capabilities. While these systems offer luxury features for drivers, many of them increase driver workload and can lead to distraction – impacting driver performance.
Research into the effects of the formative feedback tool on driver performance were carried out through a full-scale simulation completed in the driving simulator to evaluate if driver workload increased during secondary tasks (like programming a GPS or using voice commands to make a phone call) and how this workload impacted their risk of adverse events (lane deviations, lane departures, roadway departures, etc.) as well as evaluating if formative feedback would change driver performance on subsequent trips.
Participants will learn:
How human drivers play a role in the autonomous vehicle environment and why human-centered safety research is still valuable
How providing post-trip formative feedback to drivers can improve performance in subsequent trips
Compare different feedback formats and how these might be integrated into existing advanced driving systems available in newer vehicles
Estimate driver workload while interacting with IVIS and how this impacts driver risk of being involved in adverse events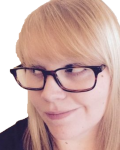 Speaker – Hannah Silber, Ph.D.
Dr. Silber completed her doctorate degree at the University of Wisconsin – Madison where she conducted research in both the Traffic Operations and Safety (TOPS) Laboratory as well as the Flight Research Lab (a subsidiary of the Naturalistic Decision Making Lab) working primarily on human factors analysis and human behavior as they relate to transportation systems. Her main areas of expertise include human performance, human behavior and learning strategies, driver simulation research, transportation safety, data science and data mining, and aviation safety analysis.