Electrically Conductive Concrete Heated Pavement Systems
Transportation agencies spend millions of dollars to remove accumulated ice and snow from paved surfaces by using deicing chemical agents, which can cause detrimental damage to bridges and pavements. The chloride in road salt flows into our lakes, streams, and groundwater, potentially harming roadside vegetation and our environment. Electrically conductive concrete (ECON) heated pavement system (HPS) has gained attention as a promising alternative technology for preventing snow and ice accumulation and mitigating the adverse effects of using traditional snow removal methods. This presentation will demonstrate the world's first full-scale ECON-based HPS construction and operation at Des Moines International Airport and how this system can be adapted for bridge and roadway applications.   
Learning outcomes:
Conceptual system design of ECON HPS

Construction techniques of ECON HPS

Operation cost of ECON HPS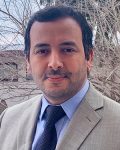 SPEAKER - Hesham Abdualla
Dr.  Hesham Abdualla is an experienced pavement/materials engineer with expertise in pavement design, construction, construction materials, and numerical modeling. His research is in the area of rigid pavement design, concrete materials, pavement evaluation, and advanced pavement construction techniques. Dr. Abdualla earned his Ph.D. in Civil Engineering at Iowa State University where he worked on Federal Aviation Administration and Iowa Department of Transportation projects on heated concrete pavement systems focusing on developing design and construction guidance for electrically conductive concrete heated pavements.